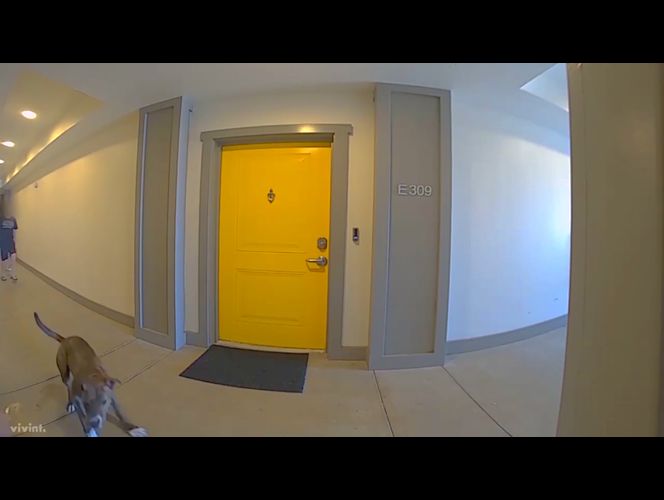 OREM — A man went to the hospital with a serious bite to his hand and his dog was treated by a veterinarian after they were attacked by a neighbor's dog inside their apartment.
It happened Sunday morning as Logan Young was leaving his home at the Parkway Loft Apartments, 1225 S. 1000 West, to go to church.
"I opened the door, (the) dog was right there," Young said. He tried to stop the
BOXER
from getting inside, but it bit him and ran into his living room.
Surveillance video from outside a neighbor's front door shows the Boxer get away from a boy, who can be seen chasing the dog while holding a leash. The dog runs into Young's apartment, and you can hear the commotion going on inside.
"I mean, it is the most unexpected thing you can think of," Young said.
His roommate, Dennis Yu, came running when he heard the commotion. Yu struggled to get the Boxer to stop biting Young's black Labrador retriever, Sydney.
"This vicious dog comes into your residence to attack you ... I had no context. I had no mental preparation for this," Yu said.
The video shows the dog's owner running for help, and soon two adults come to the apartment.
Logan lost his thumbnail in the scuffle; Sydney was treated at the vet for multiple bites. Monday morning, the Boxer was taken away by animal control.
"(The dog) will be on a 10-day quarantine; it was current on all of its shots," said Orem Police Lt. Craig Martinez. "And after that, the shelter then looks at the dog's history and determines whether or not to put the dog down."
In this case, police say the Boxer's owner should have had the dog on a leash before taking it outside.
"I think the main lesson here is strictly for dog owners: If you have a dog and it's around people, you need to kinda keep control of it," Martinez said.
Young said he is sorry his neighbors had to give up their dog, but believes it was the right thing to do.
"The dog can be dangerous," he said. "I was only me, which I'm grateful for. I'm fine getting bit, but you know it easily could have been a child opening the door."
Martinez said the Boxer's owner relinquished his rights to the dog when it was taken to the shelter and he has agreed to pay both the medical and vet bills. The city attorney will have to decide whether the owner will face any criminal charges for allowing the dog to get away.