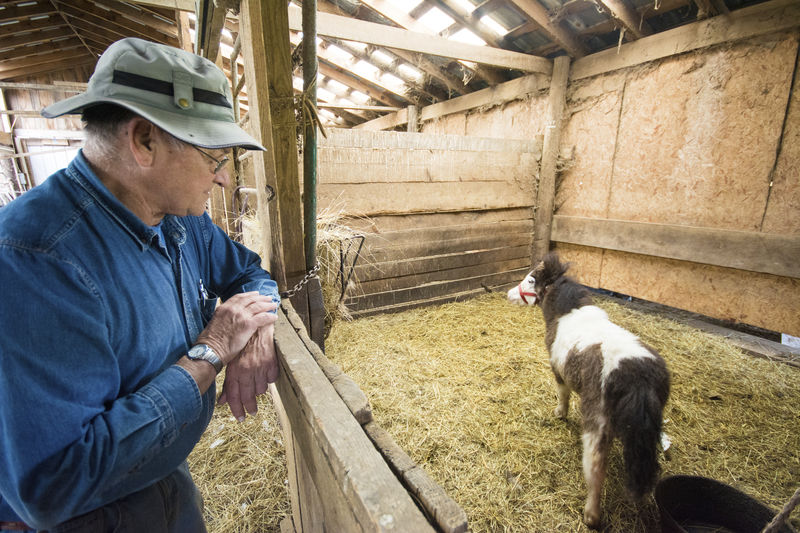 (This is the stall where the attack happened. Another horse, Dancer, now uses it)
An act of kindness turned tragic for a horse owner when a stray dog he took in turned violent and mauled his beloved pony.
A stray
PIT BULL
showed up April 14 on the half-mile dirt driveway leading to Ralph Little's farm in Delaware Township, about five miles north of Watsontown.
The male dog, which wasn't neutered, was without a collar. Little would come to learn it had no microchip either. There was no immediate way to learn who its owner was or how it came to wander onto Little's farm.
IT WAS FRIENDLY; ATHLETIC, TOO. LITTLE GUESSED IT WEIGHED ABOUT 60 POUNDS. HE SAID HE DIDN'T MIND HOLDING IT ON THE FARM. HE COULDN'T HOLD IT IN THE PEN HE OWNS. WHEN HE TRIED, THE DOG MANAGED TO SCALE THE 6-FOOT FENCE.
Little would've gotten it to a shelter sooner had it not been Easter weekend.
"I figured I'd hang onto it for the weekend and somebody would get it on Monday," Little said.
When Monday came, Little left his farm after lunch for feed for his animals.
He and his wife, Bonnie, own 10 horses. They have llamas, cattle and calves, too, plus some guinea fowl and peacocks.
"They love their animals. They've kept so many for so many years," said Dr. Linda Quodomine, a horse veterinarian based in Buckhorn.
The oldest pony on the farm was a small one compared to other horses, not quite small enough to be a miniature.
Emma weighed upward of 400 pounds and stood about 35 inches tall, Little said. She was over 20 years old; a rescue. She'd lived on the Littles' farm for two decades. She was calm and friendly — never needed to be penned up and never ran away.
"She just went out and did her own thing," Little said.
It's not clear what Emma was doing to get the attention of the stray dog Monday when Little left for feed. He figures he was gone 90 minutes. When he returned, the dog was covered in blood. Little walked to his barn and found Emma alive but badly mauled in her own stall.
"The pony was beyond saving," he said. "Why it picked on this pony, I don't know."
Quodomine responded to the Littles' farm. She looked the horse over but knew there was no saving her.
"He struggled with putting her down. I said, 'Ralph, her injuries are so extensive, we can't fix this,'" Quodomine said.
Little put the stray dog down himself. It was later turned over to a canine authority and tested negative for rabies, he said.
No one witnessed the attack. The Littles own dogs, a pair of Great Pyrenees, may have warded off the attack had they been around, Little said.
Little is unsure where the dog came from.
"I have an idea someone just dropped it off somewhere at the end of the driveway," he said.
Little said he reported the incident to police and the SPCA. He warns others with livestock to be wary of taking in stray dogs, especially larger breeds, given his own experience.
Quodomine said it's the fourth deadly dog attack against horses she's experienced. She said big dogs and small horses don't always mix. Pit bulls most certainly can be friendly, she said, but some are trained to be aggressive.
The attack on the Littles' horse was "devastating," Quodomine said. Horses routinely live into their mid-20s to mid-30s, she said.
That was the case with Emma, and it allowed all those years for the Littles to bond with the horse.
"There's a lot of history there," she said.