FOX5 Vegas - KVVU
Medical examiners identified the child as Kamiko Dao Tsuda-Saelee, a 6-month-old girl from Las Vegas. The child's cause and manner of death remained pending Tuesday.
According to Officer Laura Meltzer, of Las Vegas Metro police, a call of an attack came in at 1:13 p.m. in the 9100 block of West Brilliant Prairie Court, which is near North Fort Apache Road and West Centennial Parkway.
The child was taken to Centennial Hospital. The child later died while in treatment, according to Clark County spokesman Dan Kulin.
Police said the baby had been playing in a walker near the dog when the canine attacked the baby. The baby's mother was able to stop the attack, but the baby had already suffered significant injuries.
Metro's Abuse and Neglect investigators were called to the scene. Police said it appears to be a "tragic accident" and no criminal charges were anticipated.
Clark County Animal Control Officers took custody of the dog. Police reminded parents, guardians and caretakers to supervise interactions between pets and small children.
Stay with FOX5 and fox5vegas.com for updates.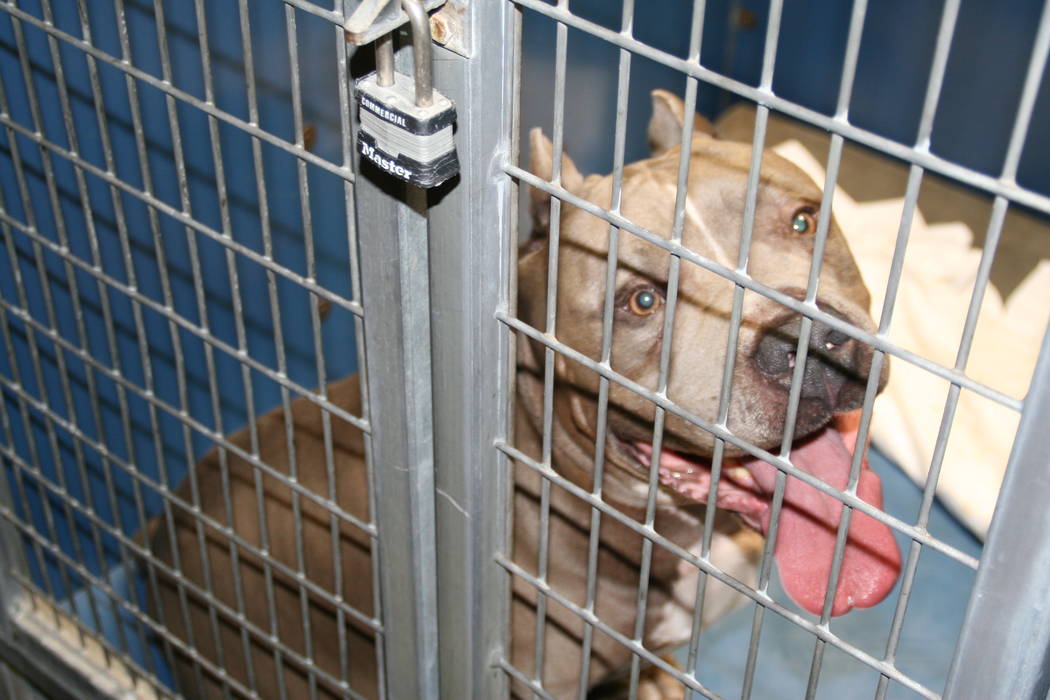 Updated May 8, 2017 - 5:56 pm
A family dog bit and killed a 6-month-old baby Monday afternoon in the northwest Las Vegas Valley.
The baby was bitten about 1 p.m. in a home on the 9100 block of Brilliant Prairie Court, near North Durango Drive and West Centennial Parkway, Metropolitan Police Department spokeswoman Laura Meltzer said.
The baby's mother was the only adult in the house at the time, police said. It's unclear what happened in the moments leading up to the attack, but police said she called 911 and rode with the child in an ambulance to Centennial Hills Hospital, where the baby was later pronounced dead.
"It's an absolute, true tragedy," Metro spokesman Larry Hadfield said at the scene Monday.
Yellow crime-scene tape blocked off the small, neighborhood street where the family lives.
Hadfield said the dog was a
"
PIT BULL TERRIER-TYPE MIX".
Animal Control took it into custody at the family's home a few hours after the attack.
It was unclear whether the dog would be euthanized; the animal was being held at the Animal Foundation as of late Monday, Clark County spokesman Dan Kulin said.
It did not appear Monday that Animal Control had been previously called to the family's address, Kulin added.
Police said abuse and neglect detectives with Metro are now investigating potential criminality, which Hadfield said is standard for any child death. The county coroner's office will name the child killed.
https://www.reviewjournal.com/local/local-las-vegas/baby-dies-after-dog-attack-in-northwest-las-vegas/
http://www.wxyz.com/news/national/6-month-old-baby-dies-in-northwest-las-vegas-dog-attack
2017 DOG BITE RELATED FATALITIES - 11 (5 children - 6 adults)
PIT BULL - 6
PIT BULL/BOXER MIX - 1
BOERBOEL - 1
MASTIFF/GREAT DANE MIX - 1

1) 1-17 LOGAN BRAATZ - 6 - ATLANTA GA - The boy was walking to his school bus stop with other children and some adults when 2 loose pit bull dogs began attacking them - It was reported that Logan was eviscerated, his friend Syrai Sanders was scalped and another child was injured - Although neighbors came running with sticks, knives and whatever they could find, the attack was deadly and swift and the dogs continued to circle and attempt to attack - The dog owner said his dogs had a fence but "SOMEHOW" got out.
2) 1-17 SKYLAR DEAN JULIUS - 2-MONTHS-OLD - SAN MARCOS TX - The father was caring for the infant girl while the mother was at work - He fell asleep for around 20 minutes and when he woke up the baby had been mauled by the family German Shepherd they had had for over 8 years and it was reported that the dog "had never shown aggression before".

3) 2-13 LOUISE HERMIDA - 75 - QUEENS NY - The elderly woman was mauled by her large dog that had been adopted almost 6 years ago. The breed is said to be a Mastiff or a Mastiff/Great Dane mix. Neighbors say as many as 10 dogs lived at the apartment. Her 39-year-old son, who has autism, attempted to put the dog in its cage and he was bitten on the leg.

4) 2-16 UNIDENTIFIED 5-YEAR-OLD BOY - CLARKSVILLE TN - Emergency personnel were called at 8:20am on a Thursday morning to a report that the Family's two English Mastiffs reported to be about 6-months-old had mauled the child. The boy died from extensive injuries.

5) 2-28 VALENTIN HERRERA - 76 - LINCOLN HEIGHTS CA - He was mauled by 2 pit bulls on February 2 while walking his small dog Dodger - Dodger was killed - He was knocked down during the attack and could have further received head injuries .......

6) 3-23 JASE PATRICK FOHS - 8-MONTHS - LUSBY CALVERT COUNTY MD - The family pit bull latched on to the child and was still attacking when officers arrived only minutes after the call - An officer had to shoot the dog to stop its mauling but the baby died.

7) 4-6 CECILLE SHORT - 82 - AND HER LITTLE DOG - OKLAHOMA CITY OK - Cecille was taking her pet dog for a walk when they were attacked by 2 large pit bulls - A passerby in a car saw the attack and called 911 - Police arrived and shot one and hit the other with their vehicle because they could not get out of their vehicle but it was too late for the victims!!! Witnesses describe the elderly woman as being almost decapitated.
8) 4-26 MAURICE BROWN - 60 - DAYTON OH - Neighbor's heard screaming and crying for help after 4am and dogs barking and began calling 911 - Police arrived and had to shoot a pit bull that apparently broke free from a chain in a backyard and attacked the man - 4 dogs were taken from the property.

9) 4-27 LISA GREEN - 32 - UPPER MACUNGIE TOWNSHIP PA - Neighbors heard the woman being attacked by her 3 1/2-year-old male pit bull/boxer mix on the rear deck of her home - They offered the dog ham and it didn't stop the attack - They hit it with a stick and it crunched the stick - Then an off-duty police chief who lived nearby was called and he shot the dog in its leg and that finally stopped the attack but the woman had suffered great blood loss and was pronounced dead at the hospital - It was reported that she had had the dog for 2 1/2 years - Neighbors reported that the dog was biting on her neck.
10) 5-1 JANE MARIE EGLE - 59- ASHEVILLE BUNCOMBE CO NC - A call was made to 911 about an aggressive dog and when deputies arrived they found Jane Egle unconscious and appeared to have animal bites - the aggressive dog would not let anyone inside the home - They finally subdued the animal and it was reported it died - Seven dogs were taken from the home - 6 Boerboels and 1 Great Pyrenees - According to a relative, her Facebook and Instagram she bred these very large aggressive dogs for sale - Behavior analysts evaluated the dogs and recommended they be put down due to their aggressiveness - But the Great Pyrenees will not be put down and it was determined it was not a threat to society.

11) 5-8 KAMIKO DAO TSUDA-SAELEE - 6 MO OLD GIRL - LAS VEGAS NV - First Responders were called to a home around 1pm where a 6-month-old baby was fatally mauled by the family's pit bull - The mother was home with the baby and rode in the ambulance with the child - The child was later pronounced dead at the hospital - It was reported that the baby had been playing in her walker when the pit bull was let in and attacked her.
NON-BITE DOG RELATED DEATH
3-18 JOHN BRUNO - 5 - WARRINGTON TWP PA - John was playing in the snow on Wednesday, March 15, when his family looked out and saw him down on the ground with the family dog tugging at his scarf around his neck - He was unresponsive and first responders gave him CPR and he was rushed to a hospital - He died on Saturday, March 18 - Investigators report that he suffered ligature strangulation from the HOUND MIX pulling on his scarf.