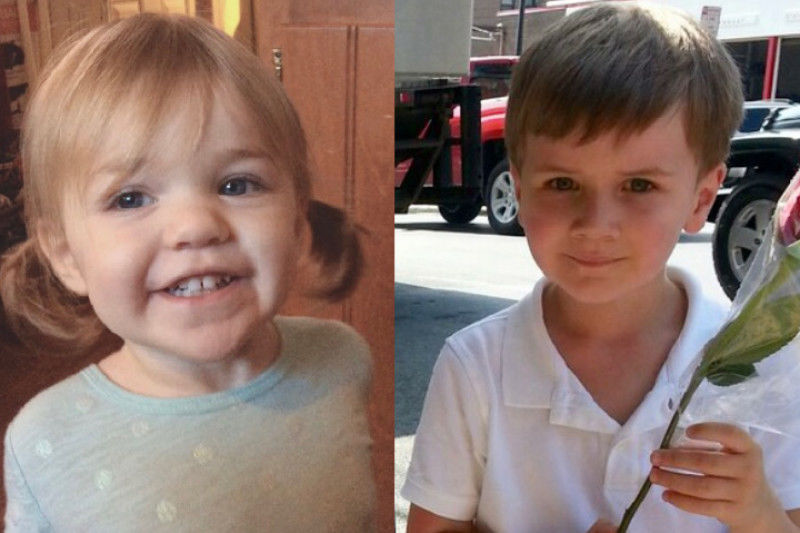 Her children, Charlie and Ruby Warfel,
were seriously injured
after the dog, a 66-pound, male pit bull terrier, broke out of a fence, jumped into the family's minivan and started attacking the kids, according to police.
The family, who has been unidentified until this time, shared their story and asked for help to pay for medical expenses in a GoFundMe page published this week.
"Ruby and Charlie are lucky to be alive after the attack, but they each have a long road ahead of them," Warfel wrote.
Both children suffered severe facial lacerations, nerve and muscle damages.
Ruby was in the hospital for three days. Charlie is still in the hospital in fair condition.
Charlie may not be able to smile again. One side of Ruby's mouth is drooping, and her left eye doesn't close, she said.
Doctors have told Warfel and her husband, Jeff, that there is hope for both kids, but they will need multiple surgeries over the next several years, she said.
Warfel was helping her children, Charlie and Ruby, out of their minivan outside their Lafayette Street home last Monday when a dog bolted across the street and jumped in the car and started attacking Ruby's face while she was still strapped in her car seat.
"What Charlie and I witnessed is beyond anyone's worst nightmare," Warfel wrote.
Warfel, who is pregnant, said she managed to pull the dog off Ruby, but it went for Charlie next, who was standing beside her outside the van.
The dog knocked Charlie to the ground. Warfel tried to pry the dog off her son, but it wasn't wearing a collar and was slippery with rain, she said.
Finally her son was free and said, "Mummy, that was a really bad dog," she wrote.
She called 911, but didn't want to wait for an ambulance, so she drove them to Lancaster General Hospital's emergency room. They were later transferred to Penn State Children's Hospital.
When Ruby woke up from surgery and saw the scratches on her mom's arm, she said "I kiss your boo boos," according to Warfel. Ruby loves tutus, Peppa Pig and the color pink.
Charlie's hospital room is decorated with pictures he has drawn. He wants to be a famous artist or writer someday. He also likes Lightning McQueen and the color red. He had been looking forward to starting kindergarten in eight weeks, his mom said.
The quarantine is required by the Department of Agriculture to determine whether the dog has rabies. They last a minimum of 10 days, and the dog warden decides where the dog will be quarantined, according to department spokeswoman Shannon Powers.
Lancaster County's dog warden, Travis Hess, and Lancaster city police's dog enforcement officer, Yadira Garcia, approved of the quarantine at the owner's home. The dog must stay inside the home or locked in a chain-link kennel outside, Hess said last week.
Investigating officer Lt. Phil Berkheiser said last week any potential charges would be filed after the dog is euthanized and the police investigation is done. Information on charges will not be announced until Friday, Hickey said.