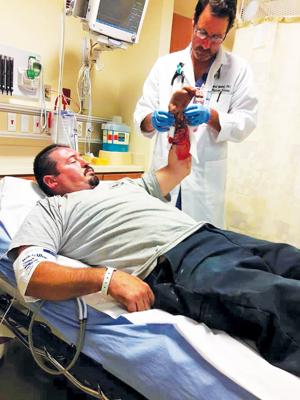 UPDATE:
http://fox40.com/2017/06/08/bystander-saves-marysville-man-from-dog-mauling/
Victor Torres, 33, is a HERO!!! Friends say he is a selfless guy with a big heart and on Tuesday evening he put his life on the line for two strangers who were being shredded alive by
TWO PIT BULLS.
The Linda resident had just left work and was headed to Marysville to meet up with friends when he spotted two people on the ground being attacked by two "MASSIVE" dogs. He hit his brakes and turned around to go back to where it was happening. He grabbed a boat oar from the back of his truck and hit the dog that was ripping the man up over the head and the oar broke. Then the dogs turned on Torres.
He kicked and hit but could not hold them off for long as the small one bit into his leg and the large one got his arm. He says he could hear his arm ripping up as the pit shook his arm. He says that when the dog adjusted its grip to bite in deeper he somehow managed to free himself and ran for his life to his truck bed.
As the dogs chased him to his truck others who had arrived grabbed the two victims and put them in a vehicle.
FOUR PEOPLE RECEIVED TREATMENT FROM THIS PIT ATTACK. NEITHER DOG WAS WEARING A COLLAR. THE DOG'S OWNER IS A TRANSIENT AND ONE OF THE DOGS HAS A LITTER OF TEN PUPPIES.
http://m.appeal-democrat.com/news/hero-battles-pit-bulls-that-attacked-people/article_91504d06-4bc3-11e7-8533-ebfe419fe9f7.html?mode=jqm