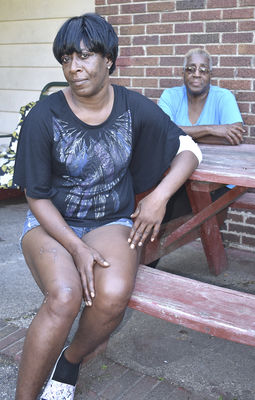 A Benton Harbor woman needed 70 stitches to repair 27 puncture wounds after
TWO PIT BULLDOGS
attacked her July 11 near her house.
"It's just through God's grace and mercy that I'm here," Angelique Bell told Benton Harbor city commissioners Monday.
Because of her injuries, she said her doctor hasn't given her clearance to return to work, leaving her and her two young children with no income.
Charline Duncan, the dogs' owner, declined to comment when contacted by phone. Also living at Duncan's house on Columbus Avenue is Shadrick Shears, according to court documents.
Berrien County Prosecutor Michael Sepic stated in an email that Duncan has been charged with a misdemeanor of having dogs at large. Her pretrial conference is at 8:30 a.m. Thursday. No judge has yet been named to the case.
A show cause hearing about the dogs is scheduled for 9 a.m. Monday in civil court before Berrien County Trial Court Judge Dennis Wiley. Sepic stated that the county is petitioning to have the dogs labeled as dangerous and to order them destroyed.
"This has taken a toll on my life," Bell said after the meeting. "... The nightmares have subsided a little bit. For the first few days, I couldn't sleep at all. I just kept thinking about what happened."
The attack occurred at 8:26 a.m. as her mother was preparing to take her to work. She said her mother accidently locked her car keys in the car, so she knocked on the neighbor's door because she knew that Shears works on cars.
"When he opened the door, (the dogs) shot out past him," she said.
Bell said that whenever Shears pulled one of the dogs off of her, the other dog would attack.
"They weren't listening to him," she said.
Shears finally laid his body over hers and tried to shield her face with his arm. Then, the dogs started attacking him in addition to her, she said.
"He needed stitches all across his back and the back of his arm," she said.
Her mother, Emma Bell-Kelley, said she saw the attack happen from a distance, but there was nothing she could do.
"My uniform was blue, but it was purple because there was so much blood." said Bell, a housekeeper at the Silver Beach Hotel in St. Joseph.
According to Bell, it took two doctors working on her for four hours to stitch up all the wounds. She said it was so painful she screamed during most of the process.
She said she starts physical therapy next week to work on her left arm, which had chunks of flesh torn off in the attack and will no longer straighten.
She said she is the fourth person the dogs have attacked, and she wants them to be euthanized.