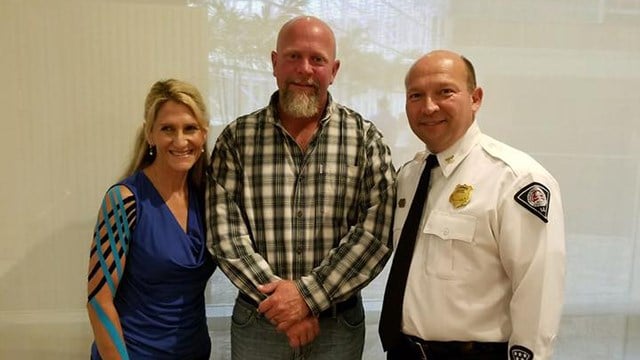 (FOX Carolina) -
The Greenville Police Department is honoring a Duke Energy lineman for his heroic actions that saved a woman from being mauled by two dogs.
Greenville Police say in early July officers responded to Hampton Avenue in reference to a dog bite. When officers arrived, they noticed a woman lying on the ground and bleeding from serious wounds.
Officers discovered that the woman had been walking toward downtown to see the Lion King at the Peace Center when she came across a PIT BULL standing in the roadway and another to the side in the yard. Both dogs began circling her and attacked her, taking her to the ground, police say.
Duke Energy lineman Douglas Dixon was nearby and saw the woman being attacked. He ran to help her and when he got there he kicked one of the dogs as hard as he could. The dog then turned on him and the other dog followed.
At this time, both dogs were biting Dixon as he was trying to kick them off.
Eventually, the owner came outside to call the dogs in.
The dogs were seized and the owner was charged.
Officers, along with medical staff were able to treat both Dixon and the victim. They believe his actions saved this woman's life.
"He deserves this award and many more. We would like to thank him for acting very courageously in this critical situation and helping to save someone's life," the Greenville Police Department wrote in a post.