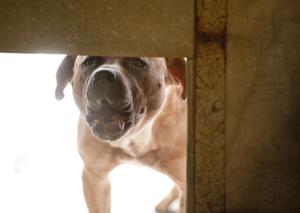 A woman and her 4-year-old grandson were transported to the hospital after being attacked by a PIT BULL in the 500 block of East Elm Street on Wednesday morning.
According to Lodi Police Lt. Fernando Martinez, the woman was walking in an alley and pushing a shopping cart with her grandson in it when they were attacked by a brown pit bull. The child sustained injuries to his lower legs, ankles and feet and the grandmother sustained injuries to her left arm. Both were sent to UC Davis Medical Center for medical attention. The child received stitches for his wounds. Police confirmed that the boy and his grandmother were both in stable condition with non-life threatening injuries.
Lodi Animal Services Officer Jennifer Bender confirmed that they had the dog in custody. She said that when she arrived on the scene, the dog was still aggressive and had been contained. She was able to apprehend the dog by using a catch pole that allowed her to keep a safe distance from the dog. The incident is currently under investigation, and the dog is currently in quarantine. They have been monitoring the dog's health and Bender said the dog does not appear sick.
When the police arrived on the scene, the dog was still aggressive, and one of the officers used a Taser on the dog, police said. The dog ran into a nearby yard and hid behind a shed
The officer sustained minor injuries on his hand from being bitten by the dog.
As of early Wednesday evening, police had not been able to locate the dog's owner.
According to Bender, calls for stray dogs or dogs at large is a daily occurrence for animal services.
"We just patrol the area and try to find the animal owners and try to talk to them about having their dogs running loose and what the municipal code is because there is an at-large ordinance on dogs and cats. The animals have to be remaining on their own property and cannot be running loose," she said.