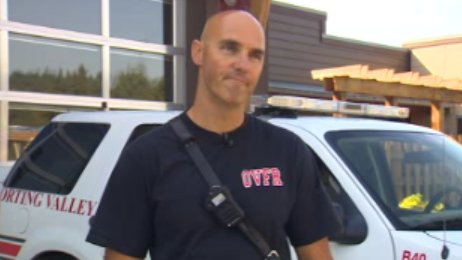 "Looked up again and decided it was time to go get him." Orting Battalion Chief Steve Goodwin on rescuing UPS driver from dogs.
#komonews
A UPS driver was attacked by several
PIT BULLS
Wednesday while he was making a delivery to a home east of the Puyallup city limits. The driver called 911 during the attack, and firefighters had to use a vehicle to break open the gate to get to him, an animal control officer said .
The incident happened around 11 a.m. Wednesday along 116th Street East between SR 162 and the Puyallup River. The driver was attacked by
FOUR OF THE DOGS
after he drove onto the property to make a delivery. The driver called 911 as the attack was in progress.
A battalion chief from Orting Valley fire was the first to arrive and the attack was still in progress. The battalion chief made the decision to drive his vehicle through the gate of the home, which had been closed, to rescue the UPS driver. The battalion chief pulled the UPS driver through the window of his vehicle, backed out of the home's driveway, and went on to the hospital.
Pierce County Animal Control spokesman Brian Boman was not aware whether the battalion chief was driving an SUV or a larger firefighting vehicle. Boman said
the homeowner apparently declined to unlock the gate when the battalion chief arrived
, Boman said.
A Pierce County Animal Control officer returned to the scene later to take the dogs, and was injured in the process. The dogs were taken to the Humane Society in Tacoma and they will remain in quarantine for 10 days.
http://www.king5.com/news/local/ups-driver-loses-shoes-uses-belt-to-fight-off-pit-bulls/475309108