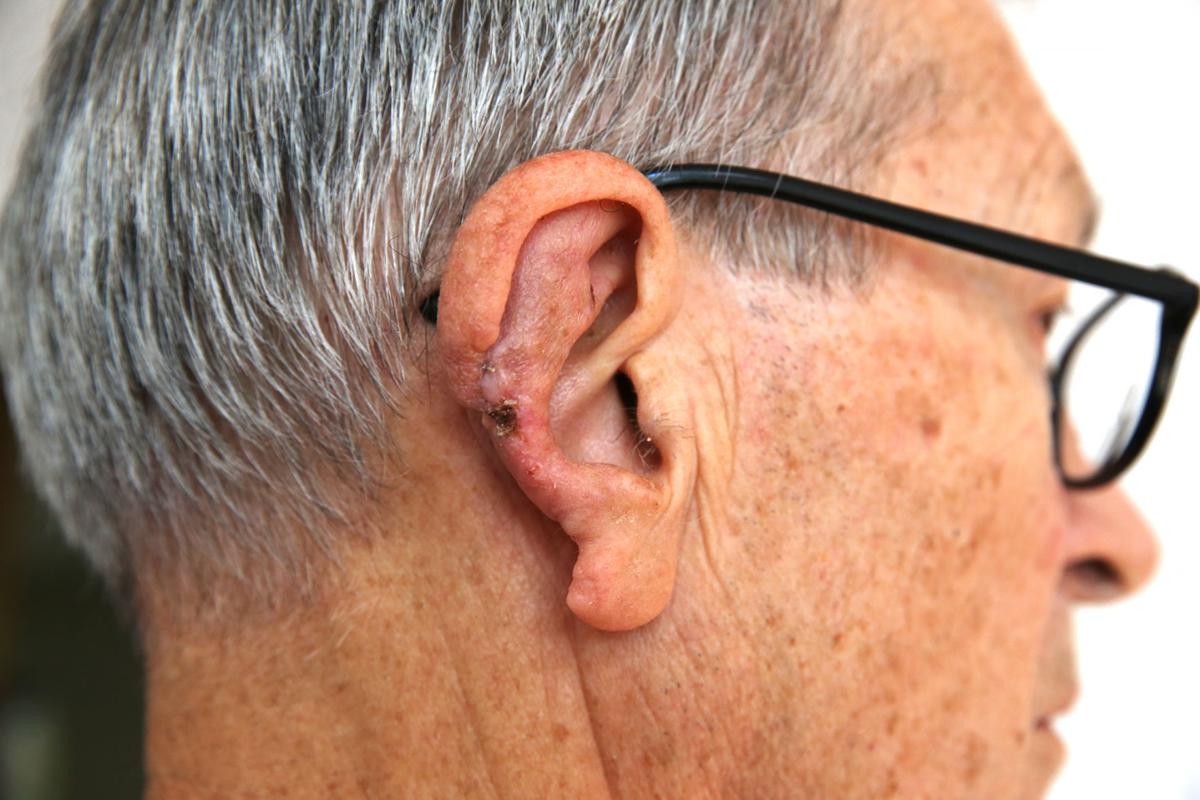 Larry Marshall says he has always loved dogs and has owned them most of his life.
But a 2-year-old
GREAT DANE
that lives next door to him in Marsh Run Estates in the Hartwood area of Stafford County is not among the canines that give Marshall a warm and fuzzy feeling.
Marshall is angry that the dog has been allowed to live after biting him three times in less than a month after coming onto Marshall's property. The third bite ripped off part of Marshall's right ear, a wound that will require extensive surgeries.
"The pain was excruciating and there was absolutely no reason for it," the 80-year-old Marshall said this week at his home. "I just don't think that dog should have a chance to get loose and hurt me or someone else again."
During a Sept. 19 hearing in Stafford General District Court, court records show, a Stafford animal control officer recommended that Judge Bruce Strickland declare the dog, "Ike," a vicious dog. That legal designation would have required the county to euthanize the dog.
Instead, the judge declared Ike a "dangerous" dog, a label that carries a slew of extra requirements for the dog's owner, Eric Black, but allows the dog to live.
"That was a grave error on the judge's part," Marshall said.
Marshall and a younger family friend, former police officer Gail Gibson, have responded by exploring possible law changes that include immediate euthanasia for attacks that cause mutilation or worse. Gibson said she has been in touch with Del. Mark Cole, R–Spotsylvania.
Marshall also has been in contact with other neighbors to warn them about the dog that lives next door.
The saga began the afternoon of Aug. 30. Marshall said he was in his front yard when Black came down the street with his three dogs. A smaller pit bull mix was on a leash and two Great Danes, including Ike, were running freely, as usual, he said.
Both Great Danes ran toward him, but the smaller female stopped before reaching Marshall. Ike kept coming and bit Marshall in the right forearm, Marshall said.
Marshall said that Black came and retrieved the dog and a short while later, while the two men were talking, the dog charged again and bit Marshall in the upper right arm.
While both bites hurt, Marshall said he didn't consider the injuries to be serious and he didn't call animal control, in part because he wanted to maintain a good relationship with his neighbor.
Marshall's wife, Nada, a former registered nurse, cleaned up the wounds and the Marshalls thought that would be the end of it.
But the next day, a neighbor saw the bite marks and asked Marshall what happened. After he told her, the neighbor called animal control and eventually handed the phone to Marshall.
Marshall said he told animal control officer Anthony McCall what had happened, but said he didn't want to press charges. But he said McCall told him that he didn't have a choice because he was going to be subpoenaed to court.
The day before the Sept. 19 hearing in connection with the first two bites, Marshall was in his front yard again when Black again came by with his dogs. This time, Ike was on a leash.
Marshall said he was leery of Ike because of the previous incident, but felt confident that Black had him under control as the two men again made small talk. Suddenly, Marshall said he saw a "blur" on his right and felt "excruciating" pain coming from his ear.
His hand was covered in blood after he reached for his ear and he left a bloody trail as he went into the house looking for his wife.
Nada Marshall took him to the Mary Washington Hospital emergency room, where about 60 stitches were used to close the wound. Marshall showed up the next day in court with his head covered in bandages.
Multiple visits to doctors and at least two extensive surgeries are pending to fill in the noticeable gap in Marshall's right ear.
Contacted by telephone Wednesday, Black declined to discuss the incidents, saying, "I'll talk to you later. Have a nice day," before hanging up.
Stafford animal control is part of the Sheriff's Office, and spokeswoman Amanda Vicinanzo said that while authorities sought the vicious dog designation, "We accept the determination of the judge."
Vicinanzo said the dangerous designation carries multiple requirements, including having the dog listed on a state registry. Owners of such dogs are required to keep them muzzled and on a leash when off the owner's property and confined when on the property. The owner must post visible warning signs about the dog's presence and must have liability coverage of at least $100,000 covering bites, Vicinanzo said.
Vicinanzo said animal control will closely monitor the dog and, if it bites again, would confiscate the dog and charge the owner with a Class 1 misdemeanor.