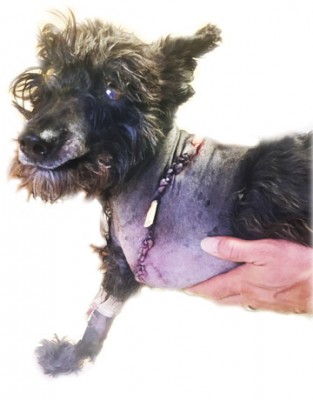 BELOVED PETS KILLED AND HUMANS INJURED AS DOG ATTACK REPORTS RISE:
By Patric Hedlund, TME
October and November have brought multiple reports of severe injury and death to pets in the Mountain Communities from dogs running loose in Frazier Mountain Park and the Pine Mountain community.
Melanie Faulconer was walking her two small, fluffy dogs October 1 in Frazier Mountain Park. Diego was a maltese mix, Sammy is a chihuahua mix, both under 15 pounds. Both were on leashes when
A FREE-RUNNING PIT BULL AND A MASTIFF (ALLEGEDLY ADOPTED FROM SHELTER ON THE HILL)
attacked. Diego (also adopted from SOTH) was killed by…(please see below to view full stories and photographs)
Photo captions:
For Sale on Craigslist: Melanie Faulconer of Frazier Park was outraged to see this red-nose pitbull and this mastiff-pit mix placed for sale on Craigslist after the pit killed her small dog Diego (at right) October 1 and the mastiff mix severely injured her other dog, Sammy (a chihuahua mix) in Frazier Mountain Park.
Left and above: Yoneiki is a 14 lb. miniature schnauzer from Pine Mountain that was being walked on a leash near Yellowstone Drive on November 3. His leg was bitten off in a terrifying attack by
A PIT BULL
running lose. Below: Donna Skelly's 9-year-old boxer Sasha was attacked by
A PIT BULL
running free on October 13 in Pine Mountain. Vet bills were $2,000.