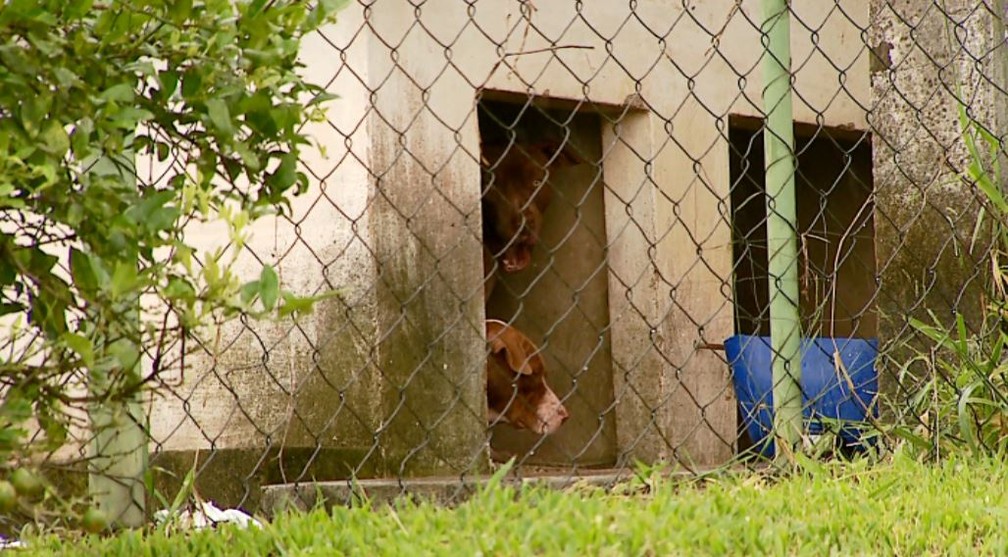 TRANSLATION:
6-year-old girl is attacked by
PIT BULL DOGS
and is seriously injured in São Carlos
Child was rescued by the father and residents of the neighborhood Jardim Novo Horizonte, on Saturday morning (23), and undergoes surgery.
A 6-year-old girl was seriously injured after being attacked by two pit bull dogs on Saturday morning in São Carlos (SP). The circumstances of the attack are still unknown. The child has undergone surgery in Santa Casa and the state of health is very se
rious.

Attack of the dogs
Raíssa Caroline Silva was attacked in a shed of an old dye shop on Avenida Getúlio Vargas, in the Jardim Novo Horizonte neighborhood. According to neighbors, the father works at the place and took her with him. The animals bit the girl on the head.

The Fire Department was called, but she had already been rescued by residents and her father, who was in shock.
Raíssa went through the emergency and emergency service of Santa Casa and had a cardiac arrest. She was resuscitated and referred for surgery, which lasted about 6 hours. The medical team had a plastic surgeon.
The girl is hospitalized in the Intensive Care Unit (ICU).
Uma menina de 6 anos ficou gravemente ferida após ser atacada por dois cachorros da raça pit bull, na manhã deste sábado (23), em São Carlos (SP). As circunstâncias do ataque ainda são desconhecidas. A criança passou por cirurgia na Santa Casa e o estado de saúde é gravíssimo.
Raíssa Caroline Silva foi atacada em um galpão de uma antiga tinturaria na Avenida Getúlio Vargas, no bairro Jardim Novo Horizonte. Segundo vizinhos, o pai trabalha no local e a levou com ele. Os animais morderam a menina na cabeça.
O Corpo de Bombeiros foi chamado, mas ela já tinha sido socorrida por moradores e pelo pai, que ficou em estado de choque.
Raíssa passou pelo serviço de urgência e emergência da Santa Casa e teve uma parada cardíaca. Ela foi reanimada e encaminhada para cirurgia, que durou cerca de 6 horas. A equipe médica contou com um cirurgião plástico.
A menina está internada na Unidade de Terapia Intensiva (UTI) infantil.
Ninguém foi encontrado no local
A reportagem da EPTV, afiliada da TV Globo, foi ao local, mas ninguém foi encontrado para falar sobre como o ataque aconteceu. Uma placa avisa sobre a presença de animais ferozes. Há canis no local e, em um deles, é possível ver dois cães.