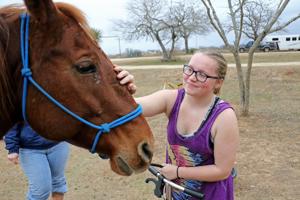 SOUNDS LIKE A PIT TO ME!!!
Melyssa Ragland, 14,
spent almost three days in the hospital after her horse was attacked by A DOG last Sunday.
The Seguin teen along with her 16-year-old sister Morgan and their friend decided to go for a late-night ride following the Guadalupe County Youth Show dance on Saturday.
"We do it all the time," Melyssa said.
The trio rode from the sister's home on Wilson Road, down Pratt Road, back up to U.S. Highway 90 to Fletcher Lane and Williams Ranch Road to the back of their family's property.
"We decided to go back the way we came to come back home," he said. "On our way back is when the dog came out of nowhere."
The dog, which the family believes is a stray, circled the three horses, before attacking Morgan's horse, Kinsey, stepdad Wesley Tate said.
"This dog never barked at them," he said. "He came out and circled like he was on a hunt. He picked out the smallest horse, which was Morgan's. He went after Morgan first and he didn't get her because she had spurs on and caught him on top of his head. Then he got her horse, but then the horse kicked him."
After the dog circled around again, Melyssa's horse Happy moved and the canine struck again, Wesley said.
"Soon as the horse moved, that dog just grabbed her foot," he said. "He got her shoe, but luckily she never got bit. Hollywood, the other horse, never moved."
On the next round of attacks at Melyssa and Happy, the dog bit the horse's stomach and then chest, Wesley said.
At that time, Melyssa tried dismounting from her horse.
"When the dog started attacking Happy I was going to get off, but we get off the horse on the right side and the dog was on the right side and I didn't want to get off where the dog was," she said. When he tried to grab my foot I slid to the left side and I think that's when I fell off and I don't think the dog saw me since I fell off on the opposite side he was."
"I don't remember what the dog looks like or really falling off the horse," she said. "I woke up and was more worried about my horse."
After Melyssa fell off, Happy fled, leading the canine away from Melyssa and the other girls, mother Lora Ragland said.
"Which is amazing because he normally stays," she said. "It was so perfect that he went and took the dog with him. The dog chased him. It would have been horrible if the dog stayed there."
Morgan jumped into action checking on her sister and calling her mother and step-father for help.
"Morgan was really calm, she was telling everybody what to do," Wesley said.
As her mom was driving down Wilson Road toward where the girls were, she noticed Happy running down the road.
"When I was going up the road he was coming home," Wesley said. "Our dogs were locked up. When I went out to go get him, I opened the gate and they went with me. Our two dogs flew past him and were barking. I called them off."
Wesley was able to get Happy safely put away in the barn while Lora went to get Melyssa, who was wanting to get back home to check on her horse.
"When my mom came and picked me up, I wanted to go see my horse," Melyssa said.
"She wouldn't sit still down there. She started belly crawling to the car," Lora said.
Lora took Melyssa home where the girl caught a glimpse of her horse and Wesley took a quick look at her.
"When she brought her up to see the horse, I went to check her out and when I opened the door, I could see blood just coming out of her ear," he said.
They took her straight to Guadalupe Regional Medical Center, while some friends escorted the other girls home.
Local veterinarian Randall Sullivan checked out Happy, Lora said.
"Dr. Sullivan was amazing. He took care of Happy," she said. "He didn't get stitches because it was ripped."
After being assessed at the hospital, Melyssa was taken by ambulance to University Hospital in San Antonio where she was ended up in the intensive care unit.
"I was fine until we got to University Hospital," Lora said. "When they moved us to a different area in the ER, that was when I broke down."
Doctors determined she sustained a small skull fracture on the left side, a blood clot in a vessel and a fractured ankle, among many other bumps and bruises.
Melyssa was released from the hospital on Tuesday, but it has yet to be determined if her ankle will be able to heal on its own or will require surgery to pin it in place, Lora said.
The teen is also hoping to make her way back to Seguin High School next week.
"She can't go back until she see the neurologist and he releases her; she goes on Tuesday," Lora said. "The school was awesome. I don't have to worry about anything. All I had to do was go in and tell them what had happened and they made me a to-do list, all I have to do is show up with the proper paperwork."
Since the attack on Sunday, the family said they have seen an incredible outpouring of support from family, friends and community members.
"The community support has been amazing," Lora said.
The Miss Round-U program began soliciting donations to be used toward purchasing a special helmet for their former Little Miss Round-Up Princess to wear once she can get back on her horse.
"If you would like to help, please write a check to Lora Ragland and mail to Mendi Hartung at 3562 Still Meadow Rd, Seguin TX 78155," the post said. "Any funds remaining after the helmet purchase will be used to help with vet expenses."
Additionally, the Seguin High School Colorguard is hosting a bake sale from 10 a.m. to 5 p.m. today at Cash America Pawn, 1111 E. Court St.
The girl's friend was able to identify a dog as the possible attacker and the family believes it is a stray that may live in the area.
"Could you imagine if they were walking or riding bicycles?" Wesley asked.
Although she ended up with serious injuries, Melyssa hasn't let that bring her down.
"I'm kind of glad it was me and my sister and not my friend. I'm sad it had to be someone, but I'm glad that our friend wasn't hurt," Melyssa said.