HERE'S THE MIXED BREED KILLER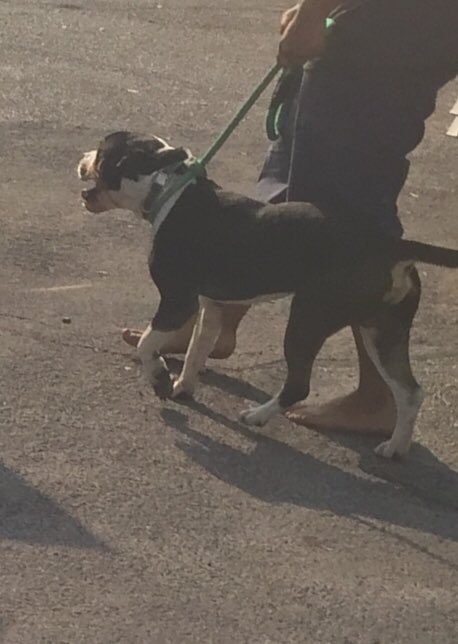 https://www.gofundme.com/noah-trevino
http://www.dailymail.co.uk/news/article-5544295/Four-year-old-boy-attacked-shaken-death-family-dog.html
A 4-year-old boy in Converse
was killed following an attack by his family's pet dog Sunday afternoon, officials said.
A Bexar County Sheriff's Office statement said the boy, identified later as Noah Trevino by the Bexar County Medical Examiner, was airlifted to an area hospital in serious life-threatening condition after being found with his neck in the jaws of the large,
MIXED-BREED DOG
. The incident occurred in the backyard of Trevino's home on the 8900 block of Twincreek Farm.
Sheriff's Sgt. Elizabeth Gonzalez said the family freed Trevino from the dog's hold and began performing CPR until deputies arrived and took over.
Trevino was later pronounced dead at the hospital.
The dog is reportedly in the custody of Bexar County Animal Control and is expected to be euthanized.
The last reported fatal dog attack in San Antonio occurred in 2014 when two mixed-breed pit bulls crawled under a fence and attacked Petra Aguirre, 83, while she fed her cats.
According to a previous report in the San Antonio Express-News, in the past fiscal year there were 15 dog attacks in San Antonio resulting in serious bodily injury requiring hospitalization, and 36 dogs were deemed dangerous. This fiscal year, starting in October, nine serious bodily injury cases have occurred and ACS has deemed 23 dogs dangerous.
In January, Alphonso McCloud was sentenced to four years in prison and Stanyelle Miles-McCloud received 10 years of probation after being convicted of a dangerous dog attack that caused serious bodily injury. The couple's pit bull, Bully, attacked neighbor, Doris Mixon Smith, whose arm was ripped off under her elbow and face suffered massive injuries.
aluna@express-news.net
Staff Writers Melissa Stoeltje and Vincent T. Davis contributed to this report.
https://www.expressnews.com/news/local/article/Four-year-old-Converse-boy-killed-by-family-dog-12780668.php
________________________________________________
Authorities identified the 4-year-old boy who was killed Sunday evening after he was bitten by a dog in his own backyard.
Noah Trevino, 4, was pronounced dead at the hospital. The Bexar County Medical Examiner has not determined the cause or manner of death.
Authorities were called to the 8900 block of Twin Creek Farm at about 3:45 p.m. for reports of a dog bite. The Bexar County Sheriff's Office said the 4-year-old was in the backyard Sunday with the family dog, when the
"LARGE MIX BREED"
dog bit him on the neck. His uncle told police that he went outside and the family started CPR to resuscitate the child.
Authorities said the child was airlifted to University Hospital with life-threatening injuries and "excessive trauma." He was later pronounced dead at the hospital, officials said.
The family said the dog has never attacked people. The dog will likely be taken by animal control, authorities said.
This is a developing story. We will have the latest tonight on our newscasts at 9 and 10 p.m.
http://news4sanantonio.com/news/local/4-year-old-boy-killed-after-being-bitten-by-family-dog
___________________________________________________
The medical examiner's office has identified the 4-year-old boy who was fatally attacked by his family's dog Sunday afternoon as Noah Trevino.
According to the
Bexar County
Sheriff's Office, Noah was playing in the backyard of his home in the 8900 block of Twincreek Farm. Bexar County Sheriff
Javier Salazar
said the dog was tied up when he attacked the child.
"It appears that the child may have gotten too close to the dog," Salazar said. "One of the relatives of the child actually looked out into the backyard and saw that the dog had his mouth around the little boy's neck and was shaking him."
Salazar said Noah was found lifeless. Family members attempted to administer first aid, but were unsuccessful. He was airlifted to the hospital where he was declared dead.
In response to the fatal dog attack, Salazar said a child should never be left alone with a dog, even if it's not known to be vicious.
"This was a family dog," Salazar said. "Even if the dog doesn't show any outward signs of aggression, sometimes they can be unpredictable. So, it's best to always be vigilant when you're dealing with a small child and a dog like that."
Bexar County Animal Control took the dog, which they described as a
"MIXED LARGE BREED."
It will be held for overnight observation and tested for rabies before being euthanized, according to authorities.
https://www.ksat.com/news/4-year-old-boy-dies-after-being-attacked-by-family-dog
2018 DOG BITE RELATED FATALITIES - 6 (4 children - 2 adults)
PIT BULL - 3 (KY, LA, OK)
PIT BULL MIX - 2 (MO, TX)
WOLF/MALAMUTE MIX - 1 (VA)
BOARDING PIT KILLED KENNEL WORKER - 1
ADOPTED PIT KILLED CHILD - 1
FAMILY PIT KILLED OWNER - 1
BABYSITTER'S PIT MIX KILLED 13 MO OLD GIRL - 1
FAMILY WOLF/MALAMUTE MIX KILLED 8-DAY-OLD INFANT - 1
FAMILY'S PIT MIX KILLED 4-YEAR-OLD BOY
1) 1-9 - LAURA WILLIAMS RAY - 50's - BROWNSVILLE QUACHITA PARISH LA - She died from injuries after a pit bull mauled her at the Happy Hounds pet boarding facility where she worked - A FB friend said she was cleaning a kennel around 11pm when the 50 pound pit attacked her - The owner had signed a form for the pit saying it was not aggressive and had never shown aggression - She was the mother of 4 children.
2) 1-15 - RYLEE MARIE DODGE - 3 - DUNCAN OK - Officers responded to a call of a child being attacked by a dog inside a home - The pit bull had been given to the child's father by a friend about 5 days previous and was being kept at his mother's house in a fence that went around the front yard - The
young father said in a video that he had left the child with his mother to go visit his brother for about 20 minutes when he received a call about the attack - He rushed back home to find his mother laying on the pit bull to try and keep it from continuing to attack his daughter - He said that the child opened the door and the pit bull rushed in and began the attack and that there was blood all through the house - His mother was injured from trying to keep the dog off his daughter.
3) 2-15 - DAVID G. BROWN - 46 - OWENSBORO KY - At least 3 dogs were living at the home - one of the dogs tried to attack responding officers and was shot and killed - Comments on Facebook from witnesses are calling the maulers PIT BULLS - They are saying that 2 of the 3 meat grinders were involved in the attack - Apparently the victims Pits were fighting and they intervened to try and separate them - His wife Dana was injured and he died "from a heart attack due to complications from the injuries of the dog attack".
4) 3-7 - UNIDENTIFIED 8-DAY-OLD INFANT GIRL - LEE COUNTY VA - Sheriff Gary Parsons confirmed that about 11:46am Wednesday a large Shepherd type dog mauled an 8-day-old girl in her bassinet and she suffered extensive injuries to her upper body - A family member first drove her to Lonesome Pine Hospital in Big Stone Gap - From there she was taken to Kingsport and then flown to UT Medical Center where she died about 4pm - Another news report said the dog was a "Mixed Breed - Then the final word came that the animal that killed the 8-day-old infant in her bassinet was a male 3/1/2 year old WOLF/MALAMUTE MIX.
5) 3-9 - LOXLI WILLOW CHAVEZ - 13 MONTH OLD GIRL - CAPE GIRARDEAU MISSOURI - Babysitter's male Pit Bull Mix said to be around 40 pounds mauled the toddler to death - Cape Girardeau Police Facebook comments are about the only information coming out - Even the gofundme site tells us nothing but the baby's name -.........
6) 3-25 - NOAH TREVINO - 6 - CONVERSE BEXAR CO TX - The family's large black and white Pit Bull Mix was tied up in the back yard and Noah was playing - A relative looked out and saw the dog had the child by the neck shaking him - The family started CPR to resusitate him and he was air lifted to hospital but was pronounced dead.