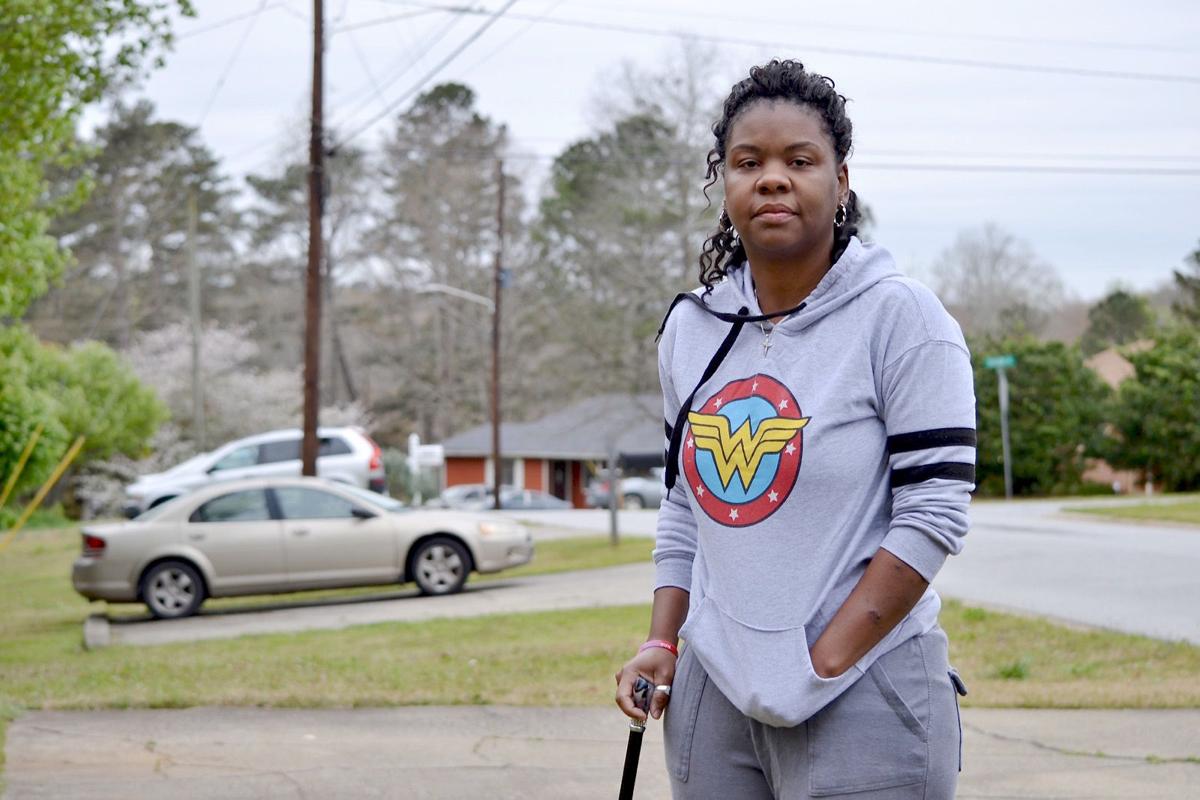 It's been one month since Schantel Mitchell put herself between a neighbor and an attacking dog, leaving her injured, out of work and, sometimes, afraid to go outside.
"I don't know, I'm still working out how I feel about goldfish right now," Mitchell said when asked her feelings on dogs after a
RHODESIAN RIDGEBACK MIXED BREED
attacked her Feb. 24. "I find myself always looking around, waiting."
She said she never planned to intervene, to draw away the huge dog working to rip apart the man's arm. She did not expect to have to hold the dog's jaws apart with her fingers to keep him from sinking his teeth into her face. Even today, Mitchell said she doesn't know how she managed it, or how the damage to her arm, hands, upper leg and ankles wasn't worse.
"I'm not a fighter or a boxer — I wish I was," Mitchell said. "I'm a computer geek."
Mitchell, an IT manager at Georgia Tech, was at her Pineland Drive home with her two young sons that afternoon when she said she could hear someone in distress through her open window. It didn't register with her at first, until she listened closer and realized a man down the street was screaming for help, rolling around on his lawn with what appeared to be a large red dog.
After situating her sons, ages 6 and 9, with a computer game and praying they wouldn't follow her outside, Mitchell grabbed a metal baseball bat and her cell phone and headed out to investigate.
She thought she might just call 911 and wait for help to arrive. But the call dropped, and a second attempt to reach emergency dispatch wouldn't go through. No one else was coming to the elderly man's aid, she said.
"I thought surely somebody would come for help. It was just silence," she said, remembering looking around for someone bigger, more capable. "The dog had just completely stripped everything away… I could see daylight through his arm."
Finally, at about 1:10 p.m., Mitchell connected with a dispatcher and help was on the way, but the dog was not relenting.
"It came down to this in my head: help him or leave, because I couldn't just stand there and watch it happen," she said. A woman of faith, Mitchell said she prayed and then swung her bat, over and over, striking any part of the attacking dog she could.
The man continually called for help from the ground. He began calling the dog by his name, Champ, and it became clear to Mitchell that she was attempting to save the man from his own pet.
"It was like hitting a tree trunk," she said. She thinks she may have been swinging the bat five or 10 minutes before she finally got the dog's attention, and he turned on her.
Eventually Mitchell lost her footing, and the bat, and the dog was on top of her. Her hands found the dog's mouth.
"I put my hands in his mouth, it was my only thought to protect my face… I was so shocked," she recalled. "I said a little prayer, I just whispered, 'Jesus,' and I got so calm."
She said she remembered holding the dog off while her mind wandered, wanting something else to think about other than the struggle. She looked up at the sky and down the street while she hoped for help, willing her children would not be the ones to attempt it.
It would take one brief reprieve and a renewed attack against the severely wounded man before emergency medics arrived. A male neighbor stepped in to give her a window to run, stumbling on injured ankles, to the waiting ambulance. The dog was shot at the scene by the first arriving Clayton County police officer.
In all, Mitchell said the ordeal lasted about 20 minutes.
According to police spokeswoman Sgt. Ashanti Marbury, witnesses told police that the attack started while the man was walking his dog. "The witnesses also advised that the dog has attacked the owner in the past in a similar manner for which he had to seek medical attention," Marbury said in a statement.
Mitchell and the man, whom Mitchell still has never met, were both transported to Grady Memorial Hospital. Mitchell was treated for her injuries, and police said the man sustained a broken arm and "major damage to his ligaments."
A friend said Mitchell is always one to help, but before this happened, she would have never thought Mitchell capable of such a feat.
"Her body is all messed up and her life is interrupted because she went out and did something for somebody else, and she would do whatever she can for people," said Rosalind Ferrell. For her children, Ferrell said she imagined Mitchell would do anything, but for a stranger? She said she was impressed.
"You've given a part of your life for somebody else's life," Ferrell said.
The page can be found by searching "Schantel's Recovery" on
GoFundMe.com
.
Mitchell is hoping to return to work next month and anticipates another four to six weeks of physical therapy before she can walk and use her left arm properly.
"It's one of those things you just don't know what you would do," Mitchell said, reflecting on the attack. "You always think you'd be the one to help."