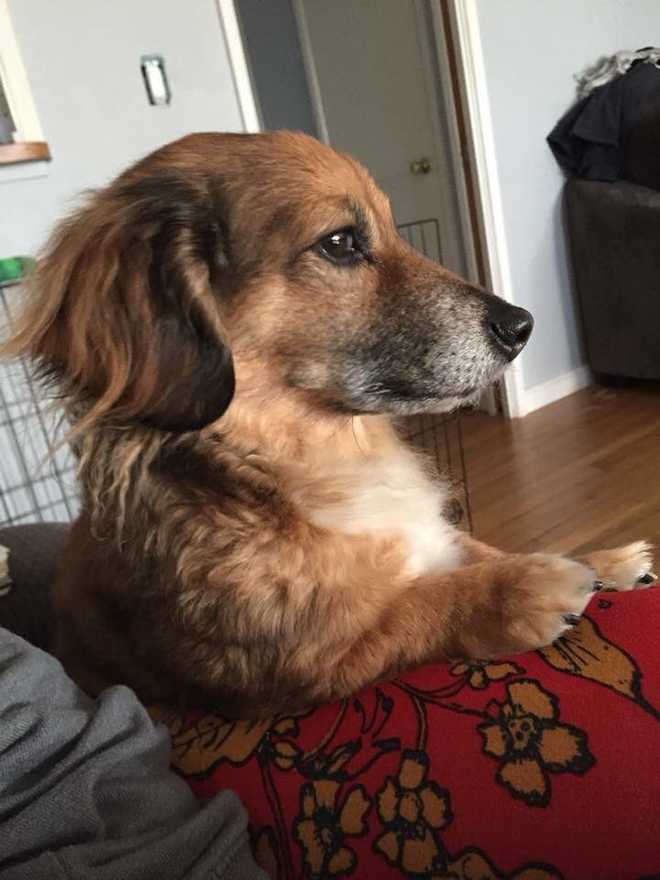 (KCRA) —
A Lodi woman whose dog was attacked and killed at a park is hoping for changes.
Rebecca Knowles took Honey, her 5-year-old dachshund mix, to Vinewood Park on Tuesday, just as she had numerous other times.
The large bowl-like park, which was originally created as a storm basin, is a wide open space for dogs of all sizes to play. Beyond the basin sit two ball fields, which are used by children in Lodi, according to people who frequent the park.
Knowles described Honey as a playful dog that wouldn't shy away from barking at dogs of any size. Because of this, and on this particular day, Knowles asked her mother to walk Honey in the areas away from the other dogs.
In the course of their walk, they encountered a small group dogs, Knowles said.
"Could've been about four or five them surrounding Honey. I'm like, 'Oh, popular girl.' Then, it went from them just smelling her to immediately the two dogs just started to attack her," she said.
"My first thought was hope. Like, I'm going to get my dog. I'm going to save her."
The dogs, however, were unrelenting, Knowles said.
"I screamed so loud," she said. "I screamed at the top of my lungs, and I did everything that I could to save her because I couldn't imagine her fighting for her life."
Honey succumbed to her injuries.
Animal Services Officer Jordan Kranich responded to the scene. He said the two dogs that attacked Honey were in the care of a dog walker employed by the dogs' owner through a dog walking app.
Animal Services quarantined the dogs immediately and cited the owner for not having the dogs current on their rabies vaccination.
Because of the attack, the dogs will be labeled "potentially dangerous" and won't be allowed in Lodi, Kranich explained. Should they relocate to another city, Kranich said he will have to call the city to alert them to their arrival.
On March 16, after the dogs' 10 days in quarantine, the owner will be able to pick them up and will have to pay a quarantine fee of $200. If the owner fails to pick up the dogs, they'll be euthanized, according to Kranich.
Jeff Hood, the city's public information officer, said the city provides dog exercise areas at Beckman and Vinewood parks, though there is no constructed dog park in the city. Beckman Park, like Vinewood, is a basin park.
Within these areas, dog owners are required to pick up after their dogs. The dogs must also be licensed and have a current rabies vaccination. These park areas allow dogs to be both on-leash and off-leash.
The dogs are not separated by size, which is something Knowles would like to see change.
It's possible that could happen.
"[City] staff will be asking the Parks and Recreation Commission to discuss the designation of large versus small dog areas at its April 3 meeting," Hood said.
"Any other changes will depend on our conversation with Animal Services staff."
Hood said a 2016 park tax to provide funding for dog park amenities and improvements failed to receive the necessary two-thirds vote.
Both Hood and Kranich remind dog owners that they enter city parks at their own risk.
Pam Francis-Tuss, a certified dog trainer in Natomas, said the combination of large and small dogs in parks like these can lead to issues between them.
" You don't know] if they have high prey drive or not. I wouldn't take a little dog into a big dog park," she said. "That's like a death sentence for a small dog."
Francis-Tuss said dog walkers who have multiple dogs in their care must have a great deal of skill. She said people in these positions should be trained in reading a dog's body language, understanding dog group dynamics and
have fight prevention measures in place. They should also know K-9 first aid, she said.
"Most people who walk dogs don't [have these things], unfortunately," she said.
Moreover, Francis-Tuss said dogs should not be on leashes when inside dog parks.
"When you have a leash on a dog, they can't flee," she said. "So, their only option is to fight."
Tuesday's events were tragic for Knowles, who said she's now considering legal action against the dog owner. She added she's not sure whether she'll be able to return to the dog park with her other dog, Luna.
"I'm kind of traumatized," she said. "I don't think I want to go to a dog park for a while."
http://www.lodinews.com/news/article_f8c10220-242e-11e8-8485-77603cc64994.html