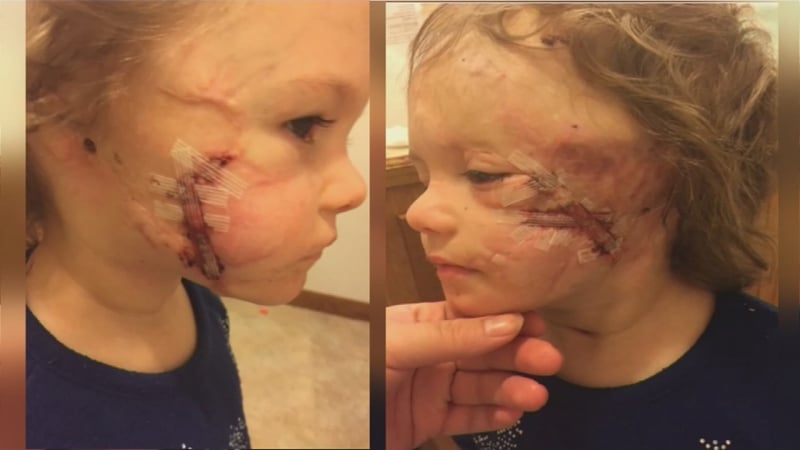 https://www.youcaring.com/kendracanendonaldharrison-1133829
CBS -
A Michigan community is banding together to support a young girl who survived a gruesome dog attack.
The Central Cass Fire Department is raising money for a special operation to get three-year-old Arial Harrison prosthetic ears as she continues to recover from severe injuries after she was attacked by a PIT BULL TERRIER in 2017.
"We've had a long year," said Kendra Canen, Arial's mom.
In that time, Canen has worked to rebuild her three-year-old daughter's life after the attack.
Harrison lost her ears and most of her head is a skin graft.
Canen said last April Arial was playing on the trampoline at her grandma's house when the neighbor's pit bull attacked.
"I'm guessing the dog had snatched her by her head, her hair or something," Canen said.
The case went to trial, but Canen feels there was never any justice.
"The owner of the dog was acquitted," she said. "We're grateful she's a live. Moving forward, we live day-by-day so we have good days and we have bad days."
Canen believes there can be better days and she wants to have prosthetic ears made for her daughter before she starts school.
"We're just sitting there thinking, she doesn't have ears and kids are bullies," Canen said.
The operation costs nearly $12,000 and Canen said Medicaid won't cover it because the procedure was deemed cosmetic.
That is where police and businesses throughout Cass County are stepping in.
Central Cass Fire Lieutenant Oliver Fiala is organizing a fundraiser for Arial in May and hopes to raise a lot of the money needed for the prosthetic ears.
The Central Cass Fire Department will hold a breakfast from 6:30 a.m. to 10 a.m. on May 5.
"All of the areas in this community do a great job of coming together in a time of need. this just happened to be a time of need and we came together and hopefully it works out," Fiala said.
Canen has a good attitude and remains hopeful of giving her daughter back what she lost.
"She knows she doesn't have them because we were talking about headphones the other day and she said 'I don't need them, I don't have ears,'" Canen said.