Emily's Law takes effect in June. The law was named for 24 year old Emily Colvin who was mauled to death by a pack of dogs.
It steps up the responsibility for animal control officers and municipalities to investigate potentially dangerous dogs. Training classes were held last week in Cullman. Another is planned for Birmingham next week.
Pet owners also face enhanced penalties and liability if their animals bite someone. The owner of a dog ruled "dangerous" by the court has to comply with orders for things like micro-chipping their pet, purchasing liability insurance, paying investigation expenses, and show proof of having a proper enclosure for their animal.
Owners could also face felony charges if their dog has been ruled dangerous and it "attacks and causes serious physical injury or death to a person."
On average, a thousand people go to emergency rooms every day for treatment for dog bites in this country. The annual cost of insurance payouts: $530 million dollars.
EMILY'S LAW DOES NOT TARGET SPECIFIC BREEDS, BUT EXPERTS SAY PIT BULLS ACCOUNT FOR 65% OF THE FATALITIES FOLLOWED BY 12% INVOLVING ROTTWEILERS.
Local animal control officers we spoke with are in favor of putting more responsibility on pet owners to make sure their animals are confined to their property.
http://abc3340.com/news/abc-3340-news-iteam/animal-control-officers-gear-up-to-enforce-dangerous-dog-law-in-june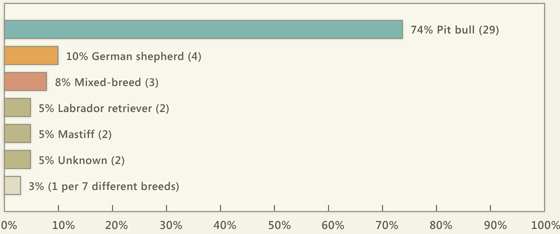 https://www.dogsbite.org/dog-bite-statistics-fatalities-2017.php