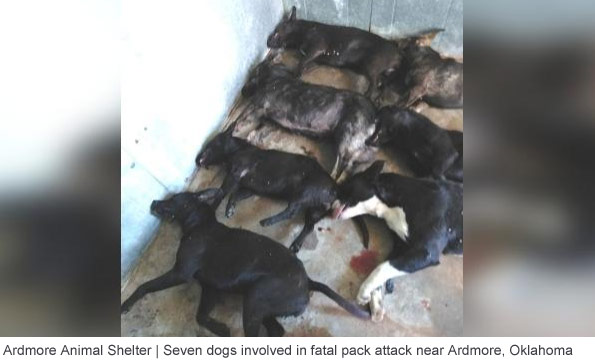 UPDATE: TRACY GARCIA, 52 -
http://www.kten.com/story/38186976/carter-county-officials-identify-dog-attack-victim#.Wvn5LKO4UOo.facebook
Officials said a woman was attacked and killed by a neighbor's dogs on Thursday night.
Carter County Sheriff Chris Bryant said the victim -- whose name has not yet been released -- was attacked by SEVEN DOGS and later died from her injuries.
Bryant said the incident happened before 10 p.m. at a residence just east of Ardmore on Banyon Road. He said one of the dogs was a PIT BULL, the others were medium-sized dogs of other breeds, all with the same owner.
"Once we were notified that this female had succumbed to her injuries, the owner of the dogs decided to put the dogs down," Sheriff Bryant said.
There have been no arrests. Bryant said he believes the victim lived in the area of the attack.
"It's really scary because my kids play out here all the time," one neighbor told KTEN. "Even if I'm out here with them, it's just scary having dogs roaming around attacking people."
There is no "leash law" in unincorporated areas of Carter County.
"Most municipalities do, but the county does not," Sheriff Bryant said. "Just be aware your your surroundings and if you have any issues with livestock or animals or anything like that, please give us a call."
The sheriff said the autopsy results will be forwarded to the district attorney's office to determine if the owner of the dogs will face charges.
2018 DOG BITE RELATED FATALITIES - 7 (4 children -3 adults)
PIT BULL - 3 (KY, LA,OK)
PIT BULL AND 6 OTHER DOGS (7 DOGS) OK - 1
WOLF/MALAMUTE MIX - 1 (VA)
3 DOGS IN HOME - ROTTWEILER, LABRADOR OR TERRIER
BOARDING PIT KILLED KENNEL WORKER - 1
ADOPTED PIT KILLED CHILD - 1
FAMILY PIT KILLED OWNER - 1
NEIGHBOR'S PIT + 6 MORE DOGS KILLED WOMAN - 1
BABYSITTER'S PIT MIX KILLED 13 MO OLD GIRL - 1
FAMILY WOLF/MALAMUTE MIX KILLED 8-DAY-OLD INFANT - 1
FAMILY DOG KILLED INFANT - 1
1) 1-9 - LAURA WILLIAMS RAY - 50's - BROWNSVILLE QUACHITA PARISH LA - She died from injuries after a pit bull mauled her at the Happy Hounds pet boarding facility where she worked - A FB friend said she was cleaning a kennel around 11pm when the 50 pound pit attacked her - The owner had signed a form for the pit saying it was not aggressive and had never shown aggression - She was the mother of 4 children.
2) 1-15 - RYLEE MARIE DODGE - 3 - DUNCAN OK - Officers responded to a call of a child being attacked by a dog inside a home - The pit bull had been given to the child's father by a friend about 5 days previous and was being kept at his mother's house in a fence that went around the front yard - The
young father said in a video that he had left the child with his mother to go visit his brother for about 20 minutes when he received a call about the attack - He rushed back home to find his mother laying on the pit bull to try and keep it from continuing to attack his daughter - He said that the child opened the door and the pit bull rushed in and began the attack and that there was blood all through the house - His mother was injured from trying to keep the dog off his daughter.
3) 2-15 - DAVID G. BROWN - 46 - OWENSBORO KY - At least 3 dogs were living at the home - one of the dogs tried to attack responding officers and was shot and killed - Comments on Facebook from witnesses are calling the maulers PIT BULLS - They are saying that 2 of the 3 meat grinders were involved in the attack - Apparently the victims Pits were fighting and they intervened to try and separate them - His wife Dana was injured and he died "from a heart attack due to complications from the injuries of the dog attack".
4) 3-7 - UNIDENTIFIED 8-DAY-OLD INFANT GIRL - LEE COUNTY VA - Sheriff Gary Parsons confirmed that about 11:46am Wednesday a large Shepherd type dog mauled an 8-day-old girl in her bassinet and she suffered extensive injuries to her upper body - A family member first drove her to Lonesome Pine Hospital in Big Stone Gap - From there she was taken to Kingsport and then flown to UT Medical Center where she died about 4pm - Another news report said the dog was a "Mixed Breed - Then the final word came that the animal that killed the 8-day-old infant in her bassinet was a male 3/1/2 year old WOLF/MALAMUTE MIX.
5) 3-9 - LOXLI WILLOW CHAVEZ - 13 MONTH OLD GIRL - CAPE GIRARDEAU MISSOURI - Babysitter's male Pit Bull Mix said to be around 40 pounds mauled the toddler to death - Cape Girardeau Police Facebook comments are about the only information coming out - Even the gofundme site tells us nothing but the baby's name.
6) 5-5 - GAIA NOVA - 3 MONTHS - SHERMAN OAKS AREA OF LOS ANGELES CA - A grandmother was caring for the infant when she was mauled on her head - It was reported that she went to make a bottle for the baby and one of the 3 family dogs got to her - The dogs are said to be a ROTTWEILER, a LABRADOR, and a 10 POUND TERRIER - No word yet on which dog attacked the baby.
7) 5 -10/11 - TRACY GARCIA - 52 - CARTER COUNTY OK - Neighbor's 7 dogs - A pit bull and 6 other dogs -