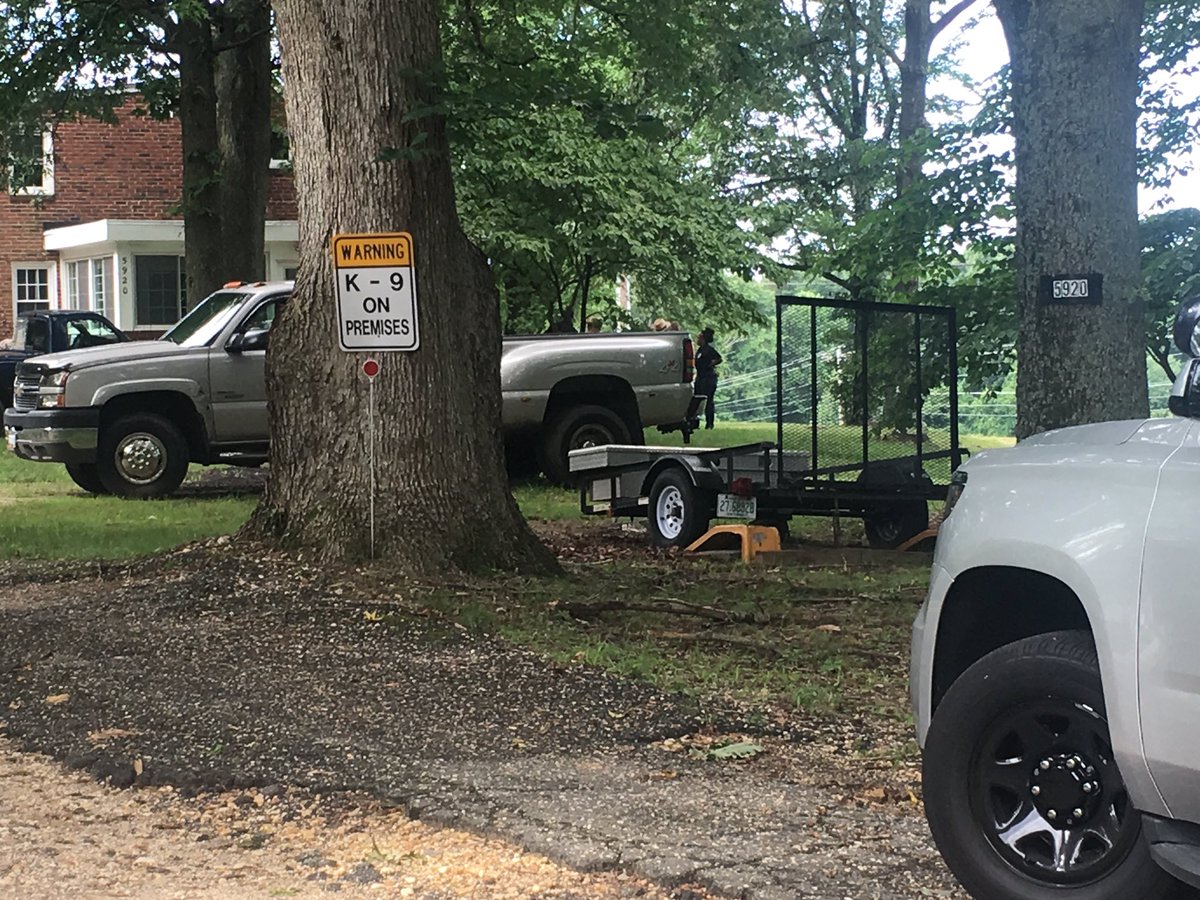 UPDATE:
https://www.thechesapeaketoday.com/2018/06/21/trooper-stopped-dogo-attacking-jenna-rae-sutphin-victim-critically-injured-flown-to-trauma-unit-in-dc-dog-attacked-trooper-too-and-was-dispatched/
UPDATE: https://www.wusa9.com/article/news/local/maryland/woman-killed-by-her-own-dog-was-engaged-to-a-k-9-officer/65-566754313
UPDATE: http://www.fox5dc.com/news/local-news/witness-describes-aftermath-of-deadly-dog-attack-in-calvert-county
Jenna Sutphin with her fiance Jason Hammer in a 2017 photo from Facebook.


A 28-year-old Maryland woman is in critical condition after police said she was attacked by her fiance's dog Thursday morning.
A driver traveling along Maryland Route 4 in Calvert County called 911 around 7 a.m. after seeing an animal attacking something, but couldn't give more details, said Elena Russo of the Maryland State Police.
When the trooper arrived at the overgrown area near the highway, which is adjacent to the woman's home, the dog was actively attacking the 28-year-old woman, police said.
Sources who responded to the scene said that the woman was bitten in the back of the head and neck, and that her family is preparing for the worst. She was sent to a local hospital and then life-flighted to Medstar Washington Hospital Center.
Investigators don't know the circumstances of why the dog attacked the woman near her Huntingtown, Maryland, home. They say it is unclear if the dog was kept outside, or if it got out of the house and she was trying to find it.
It was a
DOGO ARGENTINO
, described as a large white muscular dog, which can weigh up to 100 pounds. The dog belonged to the woman's fiance, Russo said.
The responding state trooper reported that when he arrived, the dog began to approach him, and that he shot and wounded the dog, which ran away. He then rendered aid to the victim and called for an ambulance, Russo said. But in searching for the dog later, Russo said, it again threatened Calvert County sheriff's deputies and troopers, who shot and killed the dog.
Jason Hammer is a Corporal with the Prince Georges County Correctional Center.
https://www.wusa9.com/article/news/local/maryland/woman-killed-by-her-own-dog-was-engaged-to-a-k-9-officer/65-566754313
https://wtop.com/calvert-county/2018/06/fiances-dog-attacks-critically-injures-woman-in-calvert-co/
http://wjla.com/news/local/maryland-dog-attack-calvert-county-woman
2018 DOG BITE RELATED FATALITIES - 11 (6 children - 5 adults)
PIT BULL - (KY, LA,OK, MS, PA,FL) - 6
PIT BULL AND 6 OTHER DOGS (7 DOGS) OK - 1
PIT BULL MIX - 1 (MO)
DOGO ARGENTINO - 1 (MD)
WOLF/MALAMUTE MIX - 1 (VA)
3 DOGS IN HOME - ROTTWEILER, LABRADOR OR TERRIER - CA - 1
PA - 1
BOARDING PIT KILLED KENNEL WORKER - 1
ADOPTED PIT KILLED CHILD - 1
FAMILY PIT KILLED CHILD - 2
FAMILY PIT KILLED OWNER - 1
NEIGHBOR'S 2 PITS KILLED ELDERLY PERSON WALKING - 1
NEIGHBOR'S PIT + 6 MORE DOGS KILLED WOMAN - 1
BABYSITTER'S PIT MIX KILLED 13 MO OLD GIRL - 1
FAMILY WOLF/MALAMUTE MIX KILLED 8-DAY-OLD INFANT - 1
FAMILY'S DOGO ARGENTINO KILLED FIANCE - 1
FAMILY DOG KILLED INFANT - 1
1) 1-9 - LAURA WILLIAMS RAY - 50's - BROWNSVILLE QUACHITA PARISH LA - She died from injuries after a pit bull mauled her at the Happy Hounds pet boarding facility where she worked - A FB friend said she was cleaning a kennel around 11pm when the 50 pound pit attacked her - The owner had signed a form for the pit saying it was not aggressive and had never shown aggression - She was the mother of 4 children.
2) 1-15 - RYLEE MARIE DODGE - 3 - DUNCAN OK - Officers responded to a call of a child being attacked by a dog inside a home - The pit bull had been given to the child's father by a friend about 5 days previous and was being kept at his mother's house in a fence that went around the front yard - The
young father said in a video that he had left the child with his mother to go visit his brother for about 20 minutes when he received a call about the attack - He rushed back home to find his mother laying on the pit bull to try and keep it from continuing to attack his daughter - He said that the child opened the door and the pit bull rushed in and began the attack and that there was blood all through the house - His mother was injured from trying to keep the dog off his daughter.
3) 2-15 - DAVID G. BROWN - 46 - OWENSBORO KY - At least 3 dogs were living at the home - one of the dogs tried to attack responding officers and was shot and killed - Comments on Facebook from witnesses are calling the maulers PIT BULLS - They are saying that 2 of the 3 meat grinders were involved in the attack - Apparently the victims Pits were fighting and they intervened to try and separate them - His wife Dana was injured and he died "from a heart attack due to complications from the injuries of the dog attack".
4) 3-7 - UNIDENTIFIED 8-DAY-OLD INFANT GIRL - LEE COUNTY VA - Sheriff Gary Parsons confirmed that about 11:46am Wednesday a large Shepherd type dog mauled an 8-day-old girl in her bassinet and she suffered extensive injuries to her upper body - A family member first drove her to Lonesome Pine Hospital in Big Stone Gap - From there she was taken to Kingsport and then flown to UT Medical Center where she died about 4pm - Another news report said the dog was a "Mixed Breed - Then the final word came that the animal that killed the 8-day-old infant in her bassinet was a male 3/1/2 year old WOLF/MALAMUTE MIX.
5) 3-9 - LOXLI WILLOW CHAVEZ - 13 MONTH OLD GIRL - CAPE GIRARDEAU MISSOURI - Babysitter's male Pit Bull Mix said to be around 40 pounds mauled the toddler to death - Cape Girardeau Police Facebook comments are about the only information coming out - Even the gofundme site tells us nothing but the baby's name.
6) 5-5 - GAIA NOVA - 3 MONTHS - SHERMAN OAKS AREA OF LOS ANGELES CA - A grandmother was caring for the infant when she was mauled on her head - It was reported that she went to make a bottle for the baby and one of the 3 family dogs got to her - The dogs are said to be a ROTTWEILER, a LABRADOR, and a 10 POUND TERRIER - No word yet on which dog attacked the baby.
7) 5 -10/11 - TRACY GARCIA - 52 - CARTER COUNTY OK - Neighbor's 7 dogs - A pit bull and 6 other smaller mixed dogs mauled the woman in her own yard ....
8) 5-16 - GEORGIA RUTH MORGAN - 75 - GULFPORT MS - The elderly woman often walked and picked up cans for money to donate to her church - A neighbor's 2 pit bulls mauled her when she opened the dilapidated fence gate and she was dead before officers arrived.
9) 5-24 - GUAGE ALLEN ECKENRODE - 6- LAKEMONT BLAIR CO PA - THE FAMILY PIT BULL ....
10) 5-30 - LIANA VALINO - 8 MONTHS - MIRAMAR FLORIDA - THE FAMILY PIT BULL AT GRANDMOTHER'S HOUSE .....
11) 6-21 - JENNA RAE SUTPHIN - 28 - HUNTINGTOWN MD - DOGO ARGENTINO