UPDATE:
https://www.reviewjournal.com/local/local-las-vegas/las-vegas-woman-mauled-to-death-by-family-dog/
A woman is dead after a dog mauled her inside her northwest Las Vegas valley home. Metro Police say it happened Monday night near Farm Road and Decatur Boulevard.
The Clark County Coroner identified the woman as 58-year-old Susan Sweeney and her cause of death as mauling.
City of Las Vegas officials say Animal Control took the dog after the attack and euthanized it at the family's request. The
MASTIFF MIX DOG HAD RECENTLY BEEN ADOPTED
by the family from the Animal Foundation which released this statement: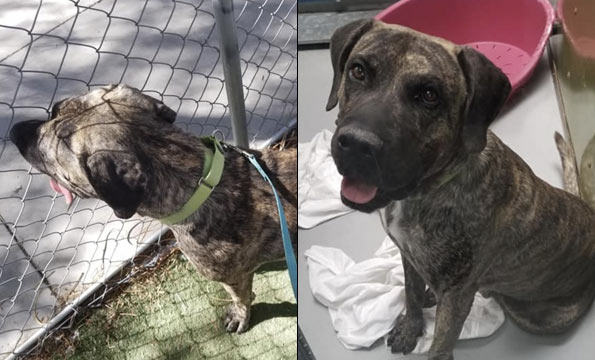 "The Animal Foundation has recently learned that a woman who adopted a large dog from our shelter lost her life as the result of an apparent attack from the same dog. At the request of her husband, the dog was humanely euthanized after the conclusion of the Las Vegas Metropolitan Police Department's investigation. The Animal Foundation did not have any information regarding the dog's prior circumstances that would have led us to believe that he was unsafe, and while this dog was in our care his behavior did not raise any concerns. There are no words that can appropriately convey the deep sadness felt by The Animal Foundation. Our sympathies, thoughts, and prayers are with this woman's family in the wake of their heartbreaking loss."
There is shock and sadness in the neighborhood after the unexpected attack.
"It's a very scary thought," said Chase Westerby, neighbor. "I have dogs of my own but I can't picture that happening. This is the first time I have ever heard of something like this so close to me."
Westerby describes the scene he saw when Metro Police found Sweeney dead in her home Monday night.
"It was all the way to the stop sign, like up to here, half cop cars, half regular cars. Then I saw a lot of people, family, friends," he said.
This, after officers say a family member called to report the animal had attacked the woman.
"It's very rare but it can happen," Westerby said.
Westerby doesn't know the family but is a dog lover.
"We're so used to dogs being a loving friendly animal that just hearing one attack someone is very surprising."
Hearing about this loss of life hits close to home.
There have been other deadly dog attacks in the valley. A mastiff mix killed a 1-year-old child in 2012.
The family of Sweeney has set up a GoFundMe account to raise money for the funeral arrangements. To
donate go here.
2018 DOG BITE RELATED FATALITIES - 18 (7 children - 11 adults)
PIT BULL - 9 (KY, LA, MD, OK, MS, PA, IL, NC 2)
PIT BULL AND 6 OTHER DOGS (7 DOGS) (OK) - 1
PIT BULL MIX - 2 (MO, FL)
MANY STOLEN DOGS INCLUDING PIT BULLS - 1 (SC)
MASTIFF MIX DOG - 1 (NV)
WOLF/MALAMUTE MIX - 1 (VA)
3 DOGS IN HOME - ROTTWEILER, LABRADOR OR TERRIER - (CA) - 1
MIX BREED DOG - 1 (ARCATA CA)
CA - 2
FL - 1
GA - 1
NEIGHBOR'S 2 PITS KILLED ELDERLY PERSON WALKING - 2 (MS, NC)
NEIGHBOR'S PIT KILLED WOMAN WALKING -1 (IL)
BOARDING PIT KILLED KENNEL WORKER - 1 (LA)
ADOPTED PIT KILLED CHILD - 1 (OK)
ADOPTED PIT KILLED OWNER - 1 (MD)
ADOPTED MASTIFF MIX KILLED OWNER - 1 (NV)
FAMILY PIT KILLED OWNER - 2 (KY)
FRIEND'S PIT BEING KEPT BY A FAMILY KILLED THEIR 6-YR-OLD - 1 (FL)
FRIEND'S PIT KILLED MAN THAT HAD BEEN BOARDING WITH HIM - 1 (NC)
NEIGHBOR'S PIT + 6 MORE DOGS KILLED WOMAN - 1 (OK)
BABYSITTER'S PIT MIX KILLED 13 MO OLD GIRL - 1 (MO)
FRIEND AND BABYSITTER'S GERMAN SHEPHERD KILLED 5-MO-OLD GIRL - 1 (GA)
FAMILY WOLF/MALAMUTE MIX KILLED 8-DAY-OLD INFANT - 1 (VA)
GRANDMOTHER'S DOGS - ROTTY, LAB MIX, 10 LB TERRIER?- KILLED 3 MOS BABY - 1 (CA)
BREED NOT IDENTIFIED? -VERY ELDERLY PERSON AGE 91 - 1- (CA)
MAN KILLED INSIDE HIS HOME BY DOGS HE WAS STEALING - 1 (SC)
1) 1-9 - LAURA WILLIAMS RAY - 50's - BROWNSVILLE QUACHITA PARISH LA - She died from injuries after a pit bull mauled her at the Happy Hounds pet boarding facility where she worked - A FB friend said she was cleaning a kennel around 11pm when the 50 pound pit attacked her - The owner had signed a form for the pit saying it was not aggressive and had never shown aggression - She was the mother of 4 children.
2) 1-15 - RYLEE MARIE DODGE - 3 - DUNCAN OK - Officers responded to a call of a child being attacked by a dog inside a home - The pit bull had been given to the child's father by a friend about 5 days previous and was being kept at his mother's house in a fence that went around the front yard - The
young father said in a video that he had left the child with his mother to go visit his brother for about 20 minutes when he received a call about the attack - He rushed back home to find his mother laying on the pit bull to try and keep it from continuing to attack his daughter - He said that the child opened the door and the pit bull rushed in and began the attack and that there was blood all through the house - His mother was injured from trying to keep the dog off his daughter.
3) 2-15 - DAVID G. BROWN - 46 - OWENSBORO KY - At least 3 dogs were living at the home - one of the dogs tried to attack responding officers and was shot and killed - Comments on Facebook from witnesses are calling the maulers PIT BULLS - They are saying that 2 of the 3 meat grinders were involved in the attack - Apparently the victims Pits were fighting and they intervened to try and separate them - His wife Dana was injured and he died "from a heart attack due to complications from the injuries of the dog attack".
4) 3-7 - UNIDENTIFIED 8-DAY-OLD INFANT GIRL - LEE COUNTY VA - Sheriff Gary Parsons confirmed that about 11:46am Wednesday a large Shepherd type dog mauled an 8-day-old girl in her bassinet and she suffered extensive injuries to her upper body - A family member first drove her to Lonesome Pine Hospital in Big Stone Gap - From there she was taken to Kingsport and then flown to UT Medical Center where she died about 4pm - Another news report said the dog was a "Mixed Breed - Then the final word came that the animal that killed the 8-day-old infant in her bassinet was a male 3/1/2 year old WOLF/MALAMUTE MIX.
5) 3-9 - LOXLI WILLOW CHAVEZ - 13 MONTH OLD GIRL - CAPE GIRARDEAU MISSOURI - Babysitter's male Pit Bull Mix said to be around 40 pounds mauled the toddler to death - Cape Girardeau Police Facebook comments are about the only information coming out - Even the gofundme site tells us nothing but the baby's name.
6) 5-5 - GAIA NOVA - 3 MONTHS - SHERMAN OAKS AREA OF LOS ANGELES CA - A grandmother was caring for the infant when she was mauled on her head - It was reported that she went to make a bottle for the baby and one of the 3 family dogs got to her - The dogs are said to be a ROTTWEILER, a LABRADOR, and a 10 POUND TERRIER - No word yet on which dog attacked the baby.
7) 5 -10/11 - TRACY GARCIA - 52 - CARTER COUNTY OK - Neighbor's 7 dogs - A pit bull and 6 other smaller mixed dogs mauled the woman in her own yard ....
8) 5-16 - GEORGIA RUTH MORGAN - 75 - GULFPORT MS - The elderly woman often walked and picked up cans for money to donate to her church - A neighbor's 2 pit bulls mauled her when she opened the dilapidated fence gate and she was dead before officers arrived.
9) 6-13 - PAIGE BRADLEY - 5-MONTH-OLD GIRL - CLAYTON COUNTY GEORGIA - A friend/babysitter's German Shepherd mauled her to death while she was sleeping on a bed in a separate bedroom.
10) 6-25 - DONALD STEELE - 91 - ARCATA CA - (Check on this)
11) 7-18 - JAELAH SMITH - 6 - JACKSONVILLE FL - KILLED BY A PIT BULL MIX HER FAMILY WAS DOG SITTING WHILE THE OWNER WAS AWAY
12) 8-1 - JAEVON TORRES - PHILADELPHIA PA - PIT BULLS - 5 or 6 pits lived in house - It is believed that 3 pits ravaged his body and officers shot 3 ....
13) 8-3 - KAREN BROWN, 57 - CHICAGO IL - She was walking in her neighborhood when a large pit bull that some say was a "loose" or "stray" dog mauled her to death -
14) 8-9 - OLGA REKHSON - 64 - LAKE TILLERY MONTGOMERY COUNTY NC - She went for her daily walk and when she didn't return her husband called for neighbors and friends to search - When they didn't find her 911 was called and Sheriff's deputies and search and rescue found her on the side of an unused road in the development - It was determined by authorities that she had been fatally mauled by a neighbor's 2 pit bulls.
15) 8 - GURNEY WALKER - 75 - ROCKY MOUNT NORTH CAROLINA - PIT BULL - A 75-year-old man was fatally mauled inside a home where he had been staying -
16) 9-3 - ROBIN CONWAY - 64 - COLUMBIA MARYLAND - Mauled to death in her backyard by a Pit Bull she had adopted 2 weeks ago.
17) ??? - UNIDENTIFIED MAN - Killed by dogs he had in his home that authorities believe he had stolen from homes in the neighborhood.
18) 10-1 - SUSAN SWEENEY - 58 - LAS VEGAS NV - She was fatally mauled by a Mastiff/Presa Canario Mix that the family had recently adopted.