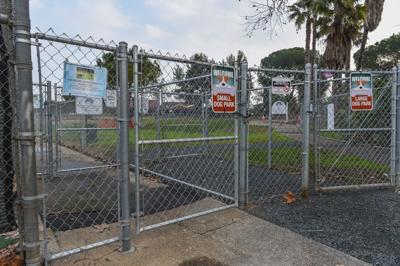 An attack Monday afternoon at the dog park in Discovery Bay has left the owner of two pit bulls with severe bites to the arms and legs and forced the closure of the grounds until further notice.
The incident, which occurred at 1601 Discovery Bay Blvd. on Jan. 28, involved
TWO PIT BULLS belonging to the same owner
– one on-leash and the other off-leash. According to Steve Burdo, public information officer with Animal Control Services in Martinez, the on-leash dog attacked the off-leash dog. When the owner stepped in to separate the animals, the on-leash dog attacked the owner.
"The investigation is ongoing," said Burdo. "But what we do know is that when the off-leash dog came back it was attacked by the on-leash dog. When the owner stepped in, the on-leash dog redirected on him. The one that attacked was sedated and taken to Sage (veterinary hospital), and right now it's up to the owner as to what he wants to do."
The owner was treated at an area hospital but no other information is currently available.
Mike Davies, Town of Discovery Bay manager, said the park was closed due to the amount of blood in the area where the attack occurred.
"We closed the park because there was quite a bit of blood," said Davies. "We have cleaned up about 90 percent of it and bleached some of the remainder, but we are going to close the park until we get some rain. We just don't want to leave any trace or odor of that for other dogs. We will go ahead and close it until we feel it is safe, which will probably be after the first good rain."
No further information was available on the other dog as of press time.