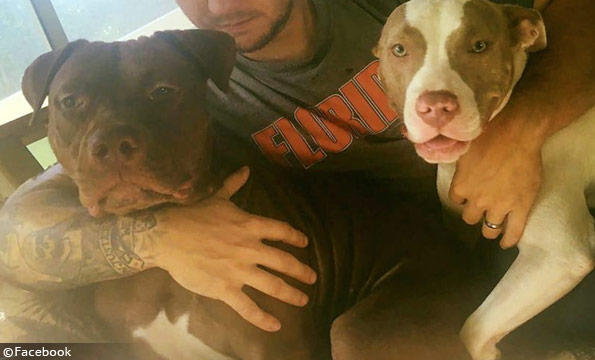 https://www.850wftl.com/fl-toddler-mauled-to-death-by-2-family-dogs/
https://www.wcjb.com/content/news/Dog-attacks-and-kills--506888211.html
A toddler was killed by two dogs and his grandmother was severely injured while trying to save the boy, who was left in the yard with the dogs Friday morning north of High Springs.
The mauling is the latest in a series of attacks by dogs on people and other animals, but the first recently to occur on the property of the dog owner.
"It was a bad scene," said Alachua County Sheriff's Lt. Brett Rhodenizer. "This ties into the greater conversation (of maulings) but this one today is a family tragedy. This was not dogs running amok through a neighborhood. This was dogs in their home with their extended family. And it happened within the confines of their private property."
Six dogs, including the two that mauled the boy, were taken from the home by Alachua County Animal Services.
The mauling occurred about 10:30 a.m. at 20915 NW 210th Ave., a mobile home down a dirt road off 210th Avenue. The sheriff's office has not released the names of those involved.
The grandmother's daughter lives in the home. The child was the son of a second daughter.
The grandmother and the boy had gone to the house to tend to the dogs while the daughter was at work, something the grandmother often does.
Two canines that had lived in the home for a while were let out in the yard. The boy went out to play while the grandmother stayed inside to make a sandwich.
"When she returned outside, there were no dogs and no boy," Rhodenizer said. "She hears the sound from an outbuilding behind the residence. She goes back there and finds the two dogs actively mauling the 2-year-old. She fights them off with a shovel and sustains injuries herself."
The woman suffered injuries to her neck. Rhodenizer said her wounds were severe but not life-threatening.
She and the boy were the only people at the home at the time but she managed to call 911 for help, which arrived within minutes.
Emergency responders tried to revive the boy but he died in the house as a result of the attack. The woman was taken to the hospital for treatment.
Members of the Alachua County Crisis Team have responded to assist the family. Family members at the home where the attack occurred and an adjacent home did not want to talk.
"There's a whole family out here grieving," one woman said.
Alachua County Animal Services was notified of the attack quickly and responded to the home, Director Ed Williams said. The owner surrendered the two dogs that attacked. They will be held for 10 days under quarantine and then
euthanized.
The other four dogs were taken into custody while the investigation is underway.
"THE OWNER TOLD US SHE HAD ADOPTED ALL THE DOGS FROM RESCUE,"
Williams said. "All the dogs looked healthy and in good body condition, and were kept in clean crates. They were all sterilized as best I could tell and were current with their vaccines."
ONE OF THE DOGS THAT ATTACKED WAS DESCRIBED BY WILLIAMS AS AN AMERICAN STAFFORDSHIRE TERRIER -- A NAME OFTEN USED FOR A PIT BULL -- AND THE OTHER A LAB MIX. THE OTHER DOGS INCLUDED TO BE WHAT APPEARED TO BE A BOXER-PIT MIX, VARIOUS MIXED BREEDS AND A LARGE DOGO ARGENTINO THAT WEIGHED MORE THAN 100 POUNDS.
Williams said he and county officials are trying to come up with ideas for programs or educational efforts to try to prevent the incidents that have been happening lately, along with the less severe instances of dog bites.
(WGFL) —
A 2-year-old boy is dead
and his grandmother is injured after Alachua County deputies say they were attacked by dogs in an enclosed back yard at a High Springs home this morning.
Deputies say they responded to 20915 NW 210th Avenue about 10:30 a.m. The woman was taken to the hospital with traumatic injuries. The boy was pronounced dead at the scene.
Deputies say their preliminary investigation shows the child and his grandmother went to the house to care for the dogs for family. They say the grandmother let two of the dogs out in the yard and went inside for a moment. When she came back out the child and dogs were gone. Deputies say she found the dogs mauling the child and was injured fighting them off.
A toddler was killed and his grandmother was injured in an attack by the family's dogs on Friday morning at a home near High Springs, authorities said.
It happened about 10:30 a.m. at a home on Northwest 210th Avenue, just west of Interstate 75 and about 30 miles northwest of Gainesville.
According to the Alachua County Sheriff's Office, two dogs living at the home attacked two family members -- a 2-year-old boy and a woman. Deputies said the 2-year-old died from his injuries at the house and the woman, who was identified as the boy's grandmother, was taken to an area hospital with serious injuries. They said she's expected to be OK.
"This (is) an incredible tragedy for the family involved," Lt. Brett Rhodenizer, with the Sheriff's Office, said in a news release. "Our investigation will ultimately determine the facts that led up to the attack, but no answers will ever make up for the loss of a child."
The Sheriff's Office told News4Jax that the grandmother and her grandson go to the house to let the dogs out every day, but on Friday, the boy was in the backyard when two of the dogs got out. The Sheriff's Office said the grandmother was outside briefly then went indoors to get additional dog food for the animals and did not hear anything. When she came back out, according to deputies, she realized her grandson was being mauled by the two dogs and she fought them off with a shovel.
"This is a very common place for them. It's not unusual," Rhodenizer said. "She couldn't see the 2-year-old and she couldn't see the dogs. There's a small outbuilding in the backyard of this residence and she heard something from that building. She went there and the dogs were actually attacking the boy at that point."
The Sheriff's Office later released audio of the chilling 911 call made by the grandmother.
Dispatcher:
"OK, is this a dog attack?"
Caller:
"What?"
Dispatcher:
"You've been attacked by a dog?"
Caller:
"Yes. Me and a 2-year-old. I think he's dead, please hurry."
Dispatcher:
"A 2-year-old?"
Caller:
"Yes!"
"TANNER"
Williams said Animal Services responded to the scene shortly after the attack and made sure all the dogs were properly contained so that no one was in any immediate danger. At the request of law enforcement, Animal Services waited until detectives and the forensics unit arrived before
removing six dogs from the residence.
Williams said the dogs, which all belonged to the family, were housed in
large, clean crates in multiple rooms
and they appeared healthy and in good condition.
According to Williams, it was later discovered that only two of the dogs were fenced in the backyard when the attack occurred, and the owner surrendered those two dogs -- described as
an AMERICAN STAFFORDSHIRE MIX and a CHOCOLATE LAB MIX
-- to Animal Services. According to Animal Services, those dogs will be held for 10 days for rabies evaluation, because the grandmother was injured, and then euthanized.
"I think at this point, we don't know what precipitated the attack in the first place," Williams said.
The remaining four dogs will be held until the completion of the investigation. Investigators said they ran a background check to see if there had been previously reported problems with the dogs, but the results came back negative.
Members of the Alachua County Crisis Team have responded to assist the family, along with officers with the neighboring High Springs and Alachua police departments. The 2-year-old's name was not immediately released.


http://www.fox13news.com/news/florida-news/sheriff-family-dogs-kill-2-year-old-boy-injure-woman-in-gainesville?fbclid=IwAR3CQjVSMs-WhYaIBmhlfhD8dQQOlBAD76IEnCtjDoVNjziCU8Sg3ZreaMI
2019 DOG BITE RELATED FATALITIES - 10 (3 children + 7 adults)

PIT BULL - 2 (KY, CA)
UP TO 6 PIT BULL MIXES - 1- (TX)
PIT BULL/BOXER MIX - 1 (NC)
2 PIT BULL MIXES - 1 (FL)
BOXER MIX - 1 (SC)
PIT BULL AND A SHEPHERD MIX - 1 (TX)
6 GERMAN SHEPHERDS - 1 (TN)
GERMAN SHEPHERD/BLUE TICK HOUND MIXES? (MS)
2 DOBERMAN PINSCHERS - 1 (TX)

TX - 3
CA - 1
FL - 1
KY - 1
MS - 1
NC - 1
SC - 1
TN - 1
1) 1-9 - Dianne Reves - 70 - Grenada County MS - A total of 7 dogs were taken into custody - The Sheriff's Department reported she suffered about several hundred dog bites - Facebook posts from a neighbor shows the dogs were GERMAN SHEPHERD/BLUE TICK HOUND MIX.
2) 1-21 - Ed Stanley - 85 - Amarillo, Potter County TX - He was severely mauled over his entire body by a PIT BULL AND A SHEPHERD MIX on his driveway - A passerby came to his aid but he died 2 weeks later - http://www.dogsbitedecatural.com/2019/01/amarillo-tx-85-year-old-man-suffered.html
3) 2-7 - Ashton McGhee - 1 - Guthrie KY - The 1-year-old baby boy lived in Hopkinsville KY and was visiting his grandparents' home when one of the family dogs came in from outside and attacked him - The Chief of Police said the PIT BULL MIX may have been spooked by a thunderstorm and then spooked again by the ball the child was playing with - "IT'S AN UNFORTUNATE FREAK ACCIDENT".

4) 2-8 - Elaine Richman - Houston TX - She owned two DOBERMAN PINSCHERS that she trained as show dogs - She was found dead in her backyard with bite marks over her face and body.

5) 2-15 - Angela Johnson - 54 - Anza Riverside County CA - On Dec 15, 2018, she was hanging out clothes on a line in her yard when a neighbor's 3 pit bulls mauled her - A main artery was bitten into on her neck and she suffered a severe stroke - She remained in a coma and died on Feb 9, 2019.

6) 2-21 - Nancy Burgess-Dismuke - 52 - Greenville SC - She was playing in her yard with 2 of her dogs said to be BOXER MIXES - Neighbors heard her screaming and at first thought they were just playing, then realized they were mauling her - several men came running and hit the dogs with various things but the tiny woman had lost so much blood from her upper extremities ... "one arm was hanging and the other was bitten off!!!"

7) 2-26 - Bessie Jill Peterson - 88 - Pall Mall Pickett County TN - She was airlifted to Vanderbilt Medical Center after being mauled around 5pm by a neighbor's dogs - 6 GERMAN SHEPHERDS - Her sister, who was in the home with her, says that she went outside to check on a drainage ditch and the flooding in her yard when the dogs attacked - She tried to help her sister but the dogs chased her back in.

8) 2-27 - Johnnie Mae Garner - 88 - Lubbock TX - Family members believe that the neighbor's dogs were trying to get to her dog in her backyard and she was trying to scare them away when they mauled her.

9) 3-5 - Jacari Long - 6 Months -Salisbury NC - The child's babysitter had gone outside to the car to clean off a seat for the baby boy when she heard her mother scream and ran inside to fine her ?PIT BULL/BOXER MIX? mauling him - He was taken to a local hospital then airlifted to Winston Salem where he was pronounced dead.

10) 3-8 - Tanner Kinnamon - 2 - High Springs Alachua Co FL - While in the care of his grandmother who was letting out large dogs at his aunt's house - 2 of the dogs mauled the boy - He was pronounced dead at the scene and the grandmother was injured trying to save him - 6 dogs were taken from the home - They were adopted dogs from Rescues and appear to be Boxer/Pit mix, and various mixed breeds and a large Dogo Argentino - The 2 dogs that killed the baby were an American Staffordshire Terrier (Pit Bull) and an American Bulldog.


PENDING:

2-15-19 - Brenda Hamilton - 77 - Pantego Beaufort County NC - She was attacked around 6am on Friday morning on Indian Run Road - Canine DNA was found on her - Investigators are collecting DNA from "canines" in the area to find which animal horribly and fatally mauled her.