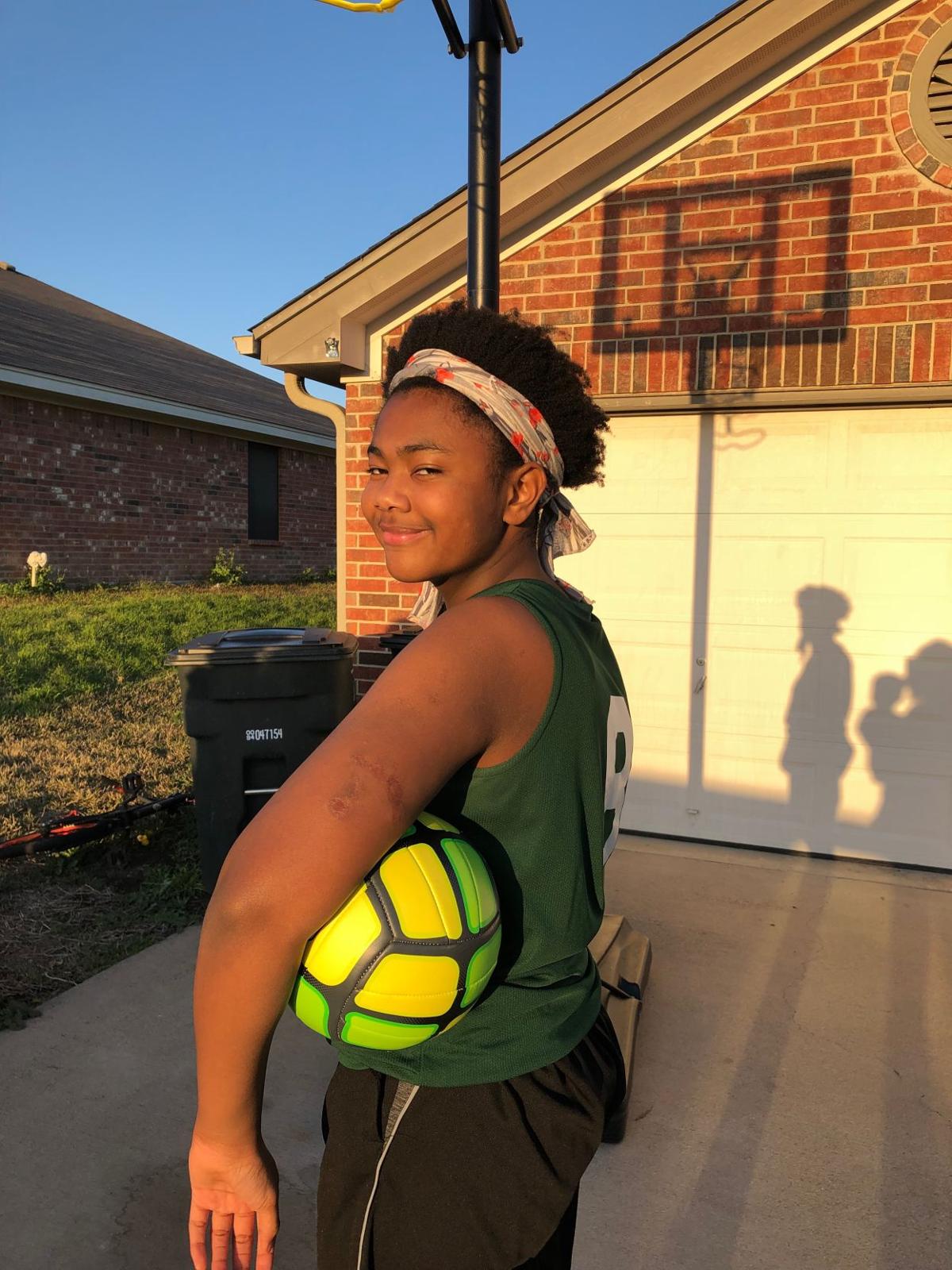 When Tshara Gardner saw her
6-year-old daughter, Adebisi Agunbiade, laying in a hospital bed with a chunk of her arm ripped off by a dog and bruises all over her face and body following a vicious dog attack Feb. 12, 2014, a prayer she had said just days prior asking God to protect her child's spirit, her laughter and her innocence echoed through her mind.
"I would pick one of my children weekly, whichever one that was naturally on my heart and my mind most for whatever reason, and I would say a very deep and detailed prayer for that child," Gardner said. "Literally two days before the dog attack happened, Bisi was the child that I said a special prayer for. I specifically asked God to protect her beautiful spirit, her smile and laughter, but most importantly her innocence."
Of the three Agunbiade children who were attacked by a
SHEPHERD-MALINOIS MIX DOG
, Adebisi's injuries were the most severe — but she has limited memory of the actual attack.
Five years later, Adebisi remembers playing with a friend in the bed of her parent's truck next-door and seeing the dog for the first time across the street.
"We didn't really think anything of it, then it started running across the street," Adebisi said. "I ran towards my house, but I fell over a crack and the dog got me."
The dog dragged Adebisi up the street latching on to her neck and then her arm and slammed her against the street repeatedly, Gardner recalled.
Ultimately, her brother Adejuwon had to rescue Adebisi from the dog. The dog bit the arm of her 5-year-old brother Av'ry and her sister Ademaya before they could get to safety.
Once the Agunbiade children made it inside, the dog chased paramedics down the street and was ultimately shot and killed by a Killeen Police Officer, Gardner said.
Doctors told Gardner the jacket she required her daughter to wear that day likely saved her arm from being ripped off entirely by the dog. Also, had the neck injuries been a few inches over, Adebisi might have died, she said.
The evening of the attack, Adebisi underwent emergency surgery, her mother recalled. She was able to rest, but had surgery again a day later to repair the gaping gash in her arm.
"Bisi's first days home after her two surgeries were very rough. She had painful contusions on her face, and a busted vessel in her eye," Gardner said. "Her body was very bruised up and sore in general."
Besides the injuries to her arm, her back and her face, she had one injury in particular that was small, yet brutally painful, her mother said.
"It was a deep puncture wound, similar to that of a gunshot," Gardner said. "They could not do surgery to fix it, but it needed to be packed and disinfected daily to avoid infection."
At first it was done at the hospital, but when they realized Adebisi's father was a nurse, she was allowed to move home.
"We were given pain meds and numbing medication but it was horrible to watch Bisi cry and scream in pain for the time that it took to do it," Gardner said.
Although multiple surgeries have helped her regain function in her arm, Adebisi still experiences pain in the nerve endings.
Adebisi did physical therapy for the first year after the attack, but she gained so much strength back in her arm so quickly, that she didn't need it for long, her mother said.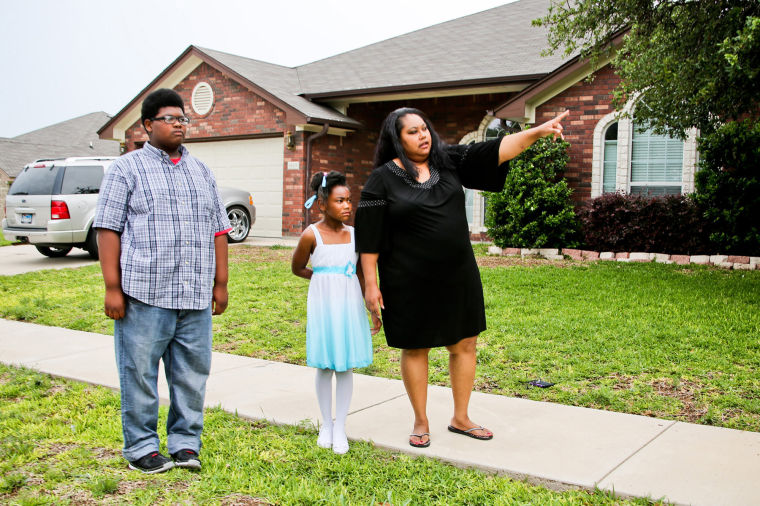 "Her emotional scars were another thing," Gardner said. "Every night for at least 6 months Bisi awoke crying uncontrollably in the middle of the night. It was about 2am every morning."
The nightmares were all the same, Gardner said: a dog broke into our home and tried to attack her.
"I knew this meant that Bisi's personal space had been invaded, and her personal sense of safety had been snatched away," Gardner said. "That innocence that I had prayed about had in some way been altered."
Adebisi refused to go outside in the front yard or in the fenced in backyard, her mother said.
"She wouldn't even walk to the mailbox with me," Gardner said.
For a period after the attack, all of the Agunbiade children were afraid of animals, she said and even now there is some residual trepidation when a larger dog approaches Adebisi.
Adebisi is the fourth of seven children, and she is the most calm and laid back of them all, her mother said.
Gardner said answering people about the scars from the attack has helped Adebisi come out of her shell, but has not tainted her laid back, stress-free personality.
"When the dog attack happened, Bisi had this amazing ability to be stress free—always laughing, never crying," Gardner said. "She would sometimes get in trouble for not cleaning her room or something small like that, and she would still be laughing and smiling and just say, 'Okay mom, I got it.'"
Now a student at Union Grove Middle School, 11-year-old Adebisi is very involved in sports.
After years of wondering whether Adebisi's arm would ever gain full function, Gardner is happy to see her daughter excel in sports.
"She plays volleyball and she is an outside hitter," Gardner said. "When I first learned how well Bisi could spike the ball with her injured arm, it moved me to tears."
Adebisi also plays basketball, and she loves to look at wrestling, too Gardner said.
"She is a very typical pre-teen," Gardner said. "In her free time she listens to music, reads, and watches her favorite shows."
And surprisingly enough, Adebisi also loves dogs, her mother said.
"She had a distinct love for animals before this even happened," Gardner said. "After the attack, I remember thinking, please don't let Bisi's love for animals change, and it didn't."
Adebisi's dream is to own a farm full of all different types of animals—including dogs, her mother said.
"She loves poodles, Chihuahua's, Labradors, and most small cute puppies that you can carry around," Gardner said. Her favorite breed is a labradoodle, her mom said.
"I wanted to wait until she was healed and ready, but I have reached out to a few company's about finding her an emotional companion dog," Gardner said.
The scars that serve as a reminder of a vicious dog attack five years ago have also shaped the Agunbiade family, and given them a passion for strict enforcement of city ordinances pertaining to dog ownership and education for the public about dog safety.
Following the attack, the entire family was scared of dogs—both big and small, but through education and healing, they have rediscovered their love of dogs.
"I worked hard with them to understand that most dogs are wonderful companions—even best friends," Gardner said. "I slowly began to take them to friends' houses who were dog owners and pet stores."
It was while visiting family in Nebraska, the children bonded with their aunt's labradoodle, Evie.
"I think that visit, which happened about three years after the attack, sealed the deal with them that not all dogs are dangerous," Gardner said. "It was an emotional time for us."
Gardner grew up in a home with large dogs—German shepherds specifically.
"When my father was a young soldier, he fell in love with large guard dogs," Gardner said. "He found out about a facility that trained these massive shepherds to be guard dogs."
Gardner said when she was six years old, her father had her take a training course through that company to learn how to behave around dogs.
While obedience schools are good for pets to learn proper behavior, it is also good for the public—especially children—to know the proper way to act around dogs.
"We were told not to snatch his food, grab his tail, or sit on him, all things that may make him grouchy or uncomfortable," Gardner said. "I don't know if these would be the exact same things we would teach right now in 2019, but it is worth looking into."
Gardner was taught not to scream near the dogs or chase them. She also learned that fighting, hitting or snatching from another child in front of the dog could trigger the dog's instinct to protect one of them, she said.
"This is precisely the education we need to have now," Gardner said. "Animals are special. We love them, but they are not human beings. They have a different nature and we have to pay closer attention to the things that could upset them or cause aggressive behavior."
Gardner would also like to see more strict enforcement of laws currently on the books for dog owners, and increased awareness and expectations for having pets in public places.
"If peoples' grass is just a little too high, they can be ticketed," Gardner said. "But I frequently see dogs in rotting fences, or in chain-link fences that are bent out, or that barely come up to the dogs' shoulders."
Gardner also expressed concern over pet owners who make assumptions about their dogs' behavior in public places such as parks.
With so many variables in children's behavior and other pets, allowing dogs to run around unrestrained can be a recipe for disaster.
"I didn't used to think anything of it when people had their pets off leashes at playgrounds or in their front yards," Gardner said. "But we can't always know what will set them off or cause them to snap and behave in unexpected ways."
As an Army child, Gardner said has lived in Killeen on and off her entire life.
"I have seen this community come together many times through some very important situations," Gardner said. "My stance has always been to advocate for children, not just my own.
I WOULD LIKE FOR OUR COMMUNITY TO ACKNOWLEDGE THAT WE DO HAVE AN ISSUE REGARDING ANIMAL SAFETY IN KILLEEN, AS WELL AS ACROSS THE UNITED STATES."