VIDEO
(KTUL) —
Emry Argo says,
"I remember there were three dogs."
Only on Tulsa's Channel 8, the 6-year-old victim of a dog attack speaks out.
She's having a third surgery Wednesday
after Friday's attack
. Her mother speaks exclusively with
Tulsa's Channel 8's Neile Jones
about what happened that day and how her daughter is doing today.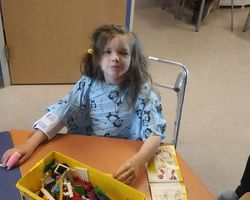 Melissa Stremme says her 6-year-old daughter is just a happy little girl, "She's extremely friendly very outgoing very bubbly".
Days ago, little Emry walked out the door to catch the bus to school just like she's done all semester. Then, all of a sudden, her dad, who just happened to be at the house that morning, heard something.
"He heard a commotion; he saw her backpack flailing around and started to run down there. At the same time, the owner of the dogs was running after the dog, and then the neighbor down the street saw the commotion, and he's armed at all times so he came down," she said.
Stremme says she got to her daughter about 30 seconds after the attack.
"The three couldn't pull the dogs off of her. So, he had to shoot two of the dogs to get them off of her. At that time, Daniel, her father, picked her up and kind of started to run home kind of got confused and then they had already let us know that 911 had been called and an ambulance was on its way," she said.
As they waited on the ambulance, mom did the only thing she could, "Prayed. I just prayed that she would be OK. The wounds were pretty hard to look at, and we couldn't tell the extent of the wounds due to the blood."
The first grader has already had two surgeries, and she is facing more, but she is resilient and somehow she is still smiling.
In a video, her mom asks, "How are you feeling strong girl?" Emry replies, "I feel good." Then, mom goes on to ask, "And what do you want to say to everybody that's done so much?" and a sweet little voice says, "Thank you."
Emry's mom says they still don't know the full extent of the damage, so they're just taking it one day at a time. But she wants you to know, "It is an amazing thing to see how everyone has come together and just wrapped around us. I'm so grateful just beyond words; I'm so grateful."
https://ktul.com/news/local/mother-of-6-year-old-victim-of-dog-attack-speaks-out-child-sends-a-message
___________________________________________________________
(KTUL) —
Broken Arrow police say a first-grade student at Creekwood Elementary was attacked by a dog at a bus stop Friday morning.
According to witnesses, a 7-year-old girl was attacked by
THREE PIT BULLS
while waiting near a school bus stop. Witnesses say the dogs had pushed open a glass door of the residence they belonged in and escaped.
Two of the dogs were determined to be the aggressors. One of the dogs bit the child and the second one made an attempt, police say.
Several people in the area made efforts to free the child from the attack. Once she was carried from the scene, a nearby resident shot both of the dogs, killing one. The wounded dog was taken to the Broken Arrow Animal Shelter and later euthanized due to the injuries received from the gunshot.
The third dog was surrendered to the animal shelter and is currently being quarantined.
Police say the girl was taken to a local hospital to be treated for injuries. She is in stable condition.
The resident responsible for shooting the dogs will not be charged criminally, police say.