UGLY, UGLY SQUINTY REPTILIAN EYES ...HEADS LIKE A F...ING CROCODILE ...MOUTHS LIKE WALKING LAND SHARKS!!! I REALLY WOULD LIKE TO KNOW WHO TOLD THIS PERSON THAT "WHEN A PIT BULL REDIRECTS ON A HUMAN IN THE HEAT OF THE MOMENT, THEY BACK OFF QUICKLY ONCE THEY REALIZE WHAT THEY'VE DONE?
__________________________________
On July 5th, Laura was attacked by a foster dog while breaking up a dog fight. The damage to her arm was extensive, requiring emergency surgery, and she is still unable to use her arm and hand.
Laura is known by her friends and family as a person with a generous heart and the first to help out in times of need. She is equally generous to people and animals alike, and for years has spent every spare moment volunteering with animal rescue organizations, fostering, rehabilitating and finding permanent homes for dogs. Laura is self employed, and as such, has experienced a loss of wages as a result of her injury. That loss is compounded by her high insurance deductibles and mounting out of pocket medical expenses. In writing this, I hope she can receive a measure of the compassion and generosity she has given.
Laura's personal story is below. Warning, there are a few graphic details.
"On the morning of July 5, while introducing my foster dog to another dog that I'd be watching a couple days, the foster dog attacked the other dog. It is unsafe to break up a dog fight, but I did anyway, prying her mouth off the other dog. She then redirected and bit me.
USUALLY, WHEN A DOG REDIRECTS ON A HUMAN IN THE HEAT OF THE MOMENT, THEY BACK OFF QUICKLY ONCE THEY REALIZE WHAT THEY'VE DONE.
Unfortunately, that wasn't the case with my foster dog. She bit my left arm and pulled me from one end of my basement to the other. I made eye contact with her as she pulled apart my arm, attempting to kill me.
I am so lucky that the foster mom of the other dog was there.
I TOLD HER I WOULD NEED HER HELP PULLING THE DOG OFF ME BECAUSE SHE WASN'T GOING TO STOP UNTIL I WAS DEAD.
We were able to pry her mouth open and throw her outside, and I started bleeding out.
The dog severed an artery that I had to hold closed with my other hand while we waited the longest 15 minutes of my life for paramedics to come. In those 15 minutes, I had to talk myself through my impending death, what I would want them to tell my parents, how to prevent my mom from ever seeing the crime scene, what all I still wish I could've accomplished in life. I can't describe the horror and sadness I felt.
Today, I sit in a hospital bed, my left arm covered and swollen and useless, my right hand punctured and stitched and bruised. I am hoping to regain full use of my left arm, but I've lost muscles and nerves that may never regenerate.
I feel so lucky to be here. I should've died that day. I should've lost an arm. I know it could've been so much worse. I relive the incident constantly, analyzing what I should've done differently and remembering the look in her eyes as I tried to sweet-talk a dog I loved into letting me go. I have many emotional wounds that will take longer to heal than the physical ones.
Life is going to look very different for me for a while. As someone who is self-employed, this event is taking a large financial toll on me. If you feel it in your heart to help, I will never be able to express my gratitude. Regardless, I still need prayers and positive thoughts.
Thanks for reading and sharing, and mostly thanks for your love."
https://www.gofundme.com/f/laura-coxs-recovery-fund?utm_source=facebook&utm_medium=social&utm_campaign=fb_dn_cpgntopnavlarge_r&fbclid=IwAR3JQvHzx3Kg0moeM_OExToYRj_Eoba9rT0IluFg1tSZdEMgcJ790einfNY
Von
hopefully
you have learned what so many of us have had to learn...pit bulls are dangerous. We need a go fund me for the taxpayers as it is they who will pay the costs of this persons medical care and disability checks. This happens to HUNDREDS of people every year because people try to make pets out of fighting breed
Kris
Sadly this is common with pit bulls, yet their cultists remain in denial. Pits maul and kill more people, pets, and livestock than all other breeds combined. Pits are wonderful, until they aren't. This would not have happened with 300 other breeds.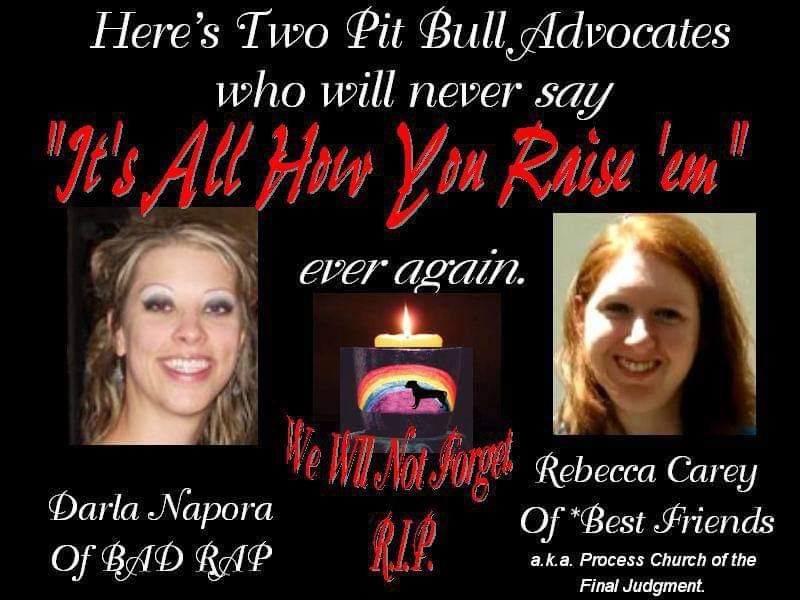 1 hour ago
. imagine what the children have felt... as they endured attacks from pit bulls. :(
This needs to stop. They make up approx. 6% of the dog population in the U.S., yet they are responsible for over 60% of the human kills by canine.
49 mins ago Being in denial about
the aggressiveness of pit bulls results in horrible incidents like this.