MORE:
https://wreg.com/2019/07/23/dogs-that-killed-man-had-attacked-before-woman-says/?fbclid=IwAR0IwTHgzT6UYwGviOEPN4jTp8c3S4cZbheFCbxV1Sj8pyQfF7TJDt3N1Ks
https://www.localmemphis.com/news/local-news/neighbors-complain-of-vicious-dogs-after-deadly-attack/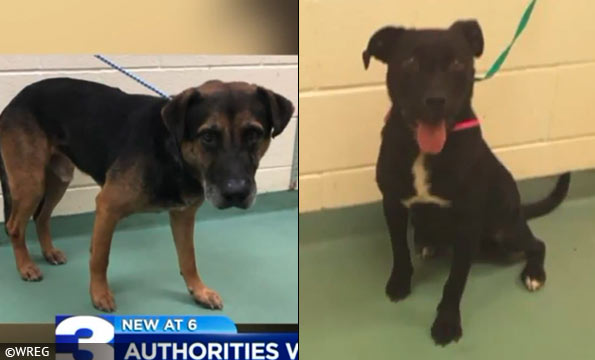 A 40-year-old man was mauled to death by a pack of dogs on a Memphis street Thursday, police said.
Officers were called around 2 a.m. to Belle Haven and Meadowbrook in southwest Memphis.
They found a man near that intersection with dog bites all over his body. Paramedics performed CPR and he was taken in critical condition to Regional Medical Center, where he later died from his injuries.
The victim's uncle identified him as Mario Williams.
Kevin Woods said he had just pulled up to the corner Thursday morning when he saw what he thought was a bunch of dogs fighting.
"I seen about
seven, eight dogs
," Woods said. "I thought they were fighting with each other. Then I seen legs rolling around and I said, they're jumping on a dude. So I kinda whipped my car around and started blowing my horn and they jumped off him."
Police say they found "multiple aggressive dogs" across the street, and were told those dogs were responsible for the attack.
Memphis Animal Services took custody of FIVE DOGS
, but hasn't said what will happen to them. A city spokesperson said MAS would have a response on Monday.
Essie Jefferson was already terrified of dogs, but is even more alarmed after the attack right outside her house.
"I'm just hearing now he died. That's so sad. It could have been me or anybody," Jefferson said.
By Woods' estimation,
there are still at least two dogs that haven't been captured.
https://wreg.com/2019/07/19/pack-of-dogs-attacks-kills-man-on-memphis-street/
https://www.sott.net/article/417043-Man-mauled-to-death-by-pack-of-5-dogs-in-Memphis-Tennessee
https://www.cnhinews.com/news/video_0e40aafa-c87a-5086-adc2-f2b828ca1ca1.html
https://www.commercialappeal.com/story/news/2019/07/19/40-year-old-man-attacked-5-dogs-dies-police-say/1782342001/
2019 DOG BITE RELATED FATALITIES - 25 (9 children + 16 adults)
PIT BULL - 8 (KY 3, FL 2, CA 2, TX)
UP TO 6 PIT BULL MIXES - 1 (TX)
3 DOGS: 1 MIXED BREED AND 2 PIT BULLS - 1 (CA)
PIT BULL/BOXER MIX? - 1 (NC)
PIT BULL/MASTIFF MIX - 1 (CA)
2 RESCUED PIT BULL MIXES - 1 (FL)
PACK OF DOGS - PIT MIX AND MIXED BREEDS - 1 (TN)
BOXER ? - 1 (IA)
BOXER MIX - 1 (SC)
PIT BULL AND A SHEPHERD MIX - 1 (TX)
ROTTWEILER - 1 (NV)
2 ROTTWEILERS - 1 (CA)
6 GERMAN SHEPHERDS - 1 (TN)
GERMAN SHEPHERD/BLUE TICK HOUND MIXES? - 1 (MS)
2 DOBERMAN PINSCHERS - 1 (TX)
3 DOGS: MIXED BREED INCLUDING A HEELER/MASTIFF MIX -1 (TX)
4 DOGS: 3 DUTCH SHEPHERDS AND 1 BELGIAN MALINOIS - 1 (MA)
HUSKY MIX - 1 (GA)




TX - 5
CA - 5
KY - 3
FL - 3
GA - 1
IA - 1
MA - 1
MS - 1
NC - 1
NV - 1
SC - 1
TN - 2

Neighbor's Loose Dogs - 1, 3, 6, 8, 9, 25
Family Pit Killed child - 16
Family Husky Mix Killed Infant - 24
Family Pit/Mastiff Mix Killed child -21
The Pit at Grandma's House - 4,
The 2 Rottweilers at Grandpa's House - 13
Rottweiler owned by a friend Killed child at Grandpa's House - 15
The Rescued Pits at Aunt's House - 11
Land Squatters on victim's property with 4 Pits Running Loose - 2,
2 Doberman Show Dogs Killed Owner - 5,
2 Boxer Mixes Killed Owner - 7
2 Pits Killed Owner at Animal Shelter - 14
Pit Killed Volunteer at Animal Shelter - 17
Relative's Dogs - 12
Babysitter's Dog - 10
Teenager Killed by 4 Dogs while doing work at a friend's kennel - 18
A Father Died while defending his daughter from a Boxer attack - 19
3 Pits/Pit Mixes killed homeless woman while walking early morning - 20
Possibly homeless man walking on road at night killed by neighbors 2+ Pit Bulls - 22
Man taking a shortcut on a trail through a wooded area killed by 6+ Pit Bull Mixes - 23
1) 1-9 - Dianne Reves - 70 - Grenada County MS - A total of 7 dogs were taken into custody - The Sheriff's Department reported she suffered about several hundred dog bites - Facebook posts from a neighbor shows the dogs were GERMAN SHEPHERD/BLUE TICK HOUND MIX.

2) 1-16 - Lana Bergman - 70 - Joshua Tree CA - She was fatally mauled by 4 PIT BULLS that were living on her property.
3) 1-21 - Edward Stanley - 85 - Amarillo, Potter County TX - He was severely mauled over his entire body by a PIT BULL AND A SHEPHERD MIX in his driveway - A passerby came to his aid but he died 2 weeks later - http://www.dogsbitedecatural.com/2019/01/amarillo-tx-85-year-old-man-suffered.html
4) 2-7 - Ashton McGhee - 1 - Guthrie KY - The 1-year-old baby boy lived in Hopkinsville KY and was visiting his grandparents' home when one of the family dogs came in from outside and attacked him - The Chief of Police said the PIT BULL MIX may have been spooked by a thunderstorm and then spooked again by the ball the child was playing with - "IT'S AN UNFORTUNATE FREAK ACCIDENT".
5) 2-8 - Elaine Richman - Houston TX - She owned two DOBERMAN PINSCHERS that she trained as show dogs - She was found dead in her backyard with bite marks over her face and body.

6) 2-15 - Angela Johnson - 54 - Anza Riverside County CA - On Dec 15, 2018, she was hanging out clothes on a line in her yard when a neighbor's 3 pit bulls mauled her - A main artery was bitten into on her neck and she suffered a severe stroke - She remained in a coma and died on Feb 9, 2019.

7) 2-21 - Nancy Burgess-Dismuke - 52 - Greenville SC - She was playing in her yard with 2 of her dogs said to be BOXER MIXES - Neighbors heard her screaming and at first thought they were just playing, then realized they were mauling her - several men came running and hit the dogs with various things but the tiny woman had lost so much blood from her upper extremities ... "one arm was hanging and the other was bitten off!!!"

8) 2-26 - Bessie Jill Peterson - 88 - Pall Mall Pickett County TN - She was airlifted to Vanderbilt Medical Center after being mauled around 5pm by a neighbor's dogs - 6 GERMAN SHEPHERDS - Her sister, who was in the home with her, says that she went outside to check on a drainage ditch and the flooding in her yard when the dogs attacked - She tried to help her sister but the dogs chased her back in.

9) 2-27 - Johnnie Mae Garner - 88 - Lubbock TX - Family members believe that the neighbor's dogs were trying to get to her dog in her backyard and she was trying to scare them away when they mauled her.

10) 3 -5 - Jacari Long - 6 Months -Salisbury NC - The child's babysitter had gone outside to the car to clean off a seat for the baby boy when she heard her mother scream and ran inside to fine her ?PIT BULL/BOXER MIX? mauling him - He was taken to a local hospital then airlifted to Winston Salem where he was pronounced dead.

11) 3-8 - 2-Year-Old Boy - High Springs Alachua Co FL - While in the care of his grandmother who was letting out large dogs at his aunt's house - 2 of the dogs mauled the boy - He was pronounced dead at the scene and the grandmother was injured trying to save him - 6 dogs were taken from the home - They were adopted dogs from Rescues and appear to be Boxer/Pit mix, and various mixed breeds and a large Dogo Argentino - The 2 dogs that killed the baby were an American Staffordshire Terrier (Pit Bull) and an American Bulldog.

12) 3-13 - Jimmy Lee Grigg - 53 - Galveston County TX - The Sheriff said he was fatally mauled by 3 dogs owned by a relative on the Grigg's property and he said the dogs were MIXED BREED INCLUDING ONE HEELER/MASTIFF MIX - Cause of death was from blood loss - His brother was the one that called 911 for help - A neighbor reported that she had called animal control several times because it sounded like dogs fighting on the property.

13) 3-22 - Jaysiah Chavez - 2 - Fresno CA - Apparently the child was in the care of his grandparents when he went into the front yard - Other children ran in to tell the grandmother that dogs had the child - She tried to get the 2 Rottweilers away and save him, as did the grandpa, but he died from the injuries.

14) 3-23 - Johana Villafane - 33 - Irving TX - She was visiting her 2 Pit Bulls that were quarantined at O'Connor Animal Hospital for biting someone earlier in the month - Someone noticed her lying unconscious outside in an exercize area - Responders could not get to her because of the viciousness of the meat grinders so police shot them - She was taken to a hospital with life-threatening injuries and later pronounced dead.

15) 4-27 - Kyna Marie Pamela Deshane - 15-Months - Henderson NV - The child was fatally mauled by a 4-year-old Rottweiler owned by a family friend while she was at her grandfather's house - She was rushed to Henderson Hospital with Life-Threatening injuries and was pronounced dead there.

16) 5-2 - Isaiah Geiling - 2 to 3-year-old boy - Louisville KY - A woman ran from the small house in the Chickasaw Neighborhood to a next door neighbor saying a Pit Bull was attacking a child - Two men ran and began attempting to get the very vicious large dog off the child who was laying face down in pools of blood and barely breathing - He was rushed to a hospital but died from the massive injuries - It is now being reported that the Monster had attacked him before.

17) 5-9 - Christine Liquori - The volunteer was found dead inside a fenced play area at the Humane Society of St. Lucie County - Fort Pierce FL - A medical examiner ruled that she died from severe blood loss due to dog bites.

18) 5-9 - Ryan Hazel - 14 - Dighton Bristol County MA - The teen's grandmother had driven him to his job at Scott Dunmore's house where he took care of about 11 dogs when Dunmore was in Boston - This usually took him about 45 minutes - When he did not return to his Grandmother's car, she called neighbors who came and found him severely mauled in the backyard - 4 dogs were loose and 7 were caged up ...3 Dutch Shepherds and 1 Belgian Malinois.

19) 5-31 - Robert Joseph Quick - 33 - Fort Madison Lee County IA - The father died after defending his 5-year-old daughter from a large dog said to be a BOXER attacking her in the face - Officers arrived to find the large dog attacking a man lying on his back in the front yard - The dog refused to release so they shot it - Then they found Quick in the doorway of the home suffering from the dog attack and he ask they to please take care of his daughter who had been attacked in the face - He later died at Fort Madison Hospital ER - Autopsy pending to determine exact cause of death.

20) 6 -16 - Crystal Lynn Pearigen - 36 - Bakersfield Kern County CA - She was found dead with multiple dog attack injuries at 6am on June 16 near Costco parking lot - 3 dogs were identified and taken in - One Mixed Breed and Two Pit Bulls - The woman may have been homeless and authorities are searching for her family.

21) 6-27 - Nicholas Farris - 2 - Newman Stanislaus County CA - The child was fatally mauled in the rear yard of a residence by a family dog said to be a PIT BULL/MASTIFF MIX.

22) 6-29 - Brian Butler - 46 - Gilbertsville KY - A passerby found his body on the side the road and called police - An autopsy revealed that he died from sharp force trauma from a dog attack - Animal Control took 2 Pit Bulls found in the area and warned of the possibility that more dogs were involved.

23) 7-4 - Melvin Olds Jr - 45 - Lake Placid Highlands County FL - His family said that he took a shortcut through a wooded path and never came home - His body was found later with more than 100 dog bites - A pack of dogs had been seen hanging out in the neighborhood - Traps were laid and 6 strays were captured .... all PIT BULL MIXES.

24) 7-9 - Ruth Flores - 22-Days-Old - Hall County GA - The Infant was mauled by the family's Husky Mix in a bedroom where she was sleeping.

25) 7-18 - Mario Williams - 40 - Memphis TN - A driver discovered the man being attacked on the street at about 2 am Thursday - The witness described a pack of dogs, 6 or 7 dogs, attacking the man who was severely mauled all over his body - He died shortly after arriving at Regional One Medical Center - It appears that a PIT MIX and a Mixed Breed are 2 of the dogs captured so far.


PENDING:

1-24 - Patricia Henson - 8-Months-Old - Tucson AZ - She was found dead with a dog near her - Severely and Catastrophically Mauled - An autopsy report of 3 bags of stomach contents showed baby teeth and skeletal fragments - A neighbor reported seeing a German Shepherd taken from the home - Her mother, Breanna Henson was arrested and charged with child abuse - more later.....

2-15 - Brenda Hamilton - 77 - Pantego Beaufort County NC - She was attacked around 6am on Friday morning on Indian Run Road - Canine DNA was found on her - Investigators are collecting DNA from "canines" in the area to find which animal horribly and fatally mauled her .....
https://wcti12.com/news/local/investigation-into-what-killed-brenda-hamilton
4 - ? Freddie Mack - 57 - Venus Johnson County TX - Relatives had not heard from the reclusive man since April 19 so a search began on his property where he lived with 18 + or - dogs - The dogs were so aggressive that no one could get near to check his home - In mid May detectives found bone fragments, possibley human hair and pieces of clothing in and around feces - Tests were done and it proved to be remains of Mack - Authorities say that it is impossible to tell if Mack died from a medical condition and then was eaten by his dogs or if his dogs killed him and ate him!
6-28 - Christy Crawford - 54 - Ventura CA - A person returned home to find their family member dead - There was evidence that 2 family Pit Bulls mutilated her body - Authorities are waiting for results from the medical examiners office to see whether the dogs attacked her or whether she was damaged the body after she died.
7-11 - Homer Utterback - 52 - Uniontown Fayette County PA - His girlfriend said she heard a noise in another room and went to see what it was and found him on the floor with the Pit Bull on top of him biting into his neck - By the time first responders arrived he was dead - Utterback considered the Pit Bull his "best friend" and had it for over a decade - He suffered from seizures and an autopsy will be done to see if it can be determined if he died from a medical condition first and then the Pit attacked him.