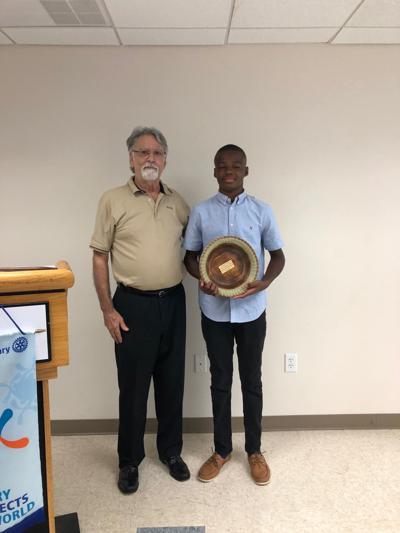 Starling Sutton had been to Jeremiah Dawson's house many times, and despite noticing a "Beware of Dog" sign, he had never seen a dog there before.
That's why the former president of the Golden Isles Rotary Club said he was caught off guard when he went to pick up his high school mentee earlier this year to take him to the club's weekly breakfast and was suddenly attacked by
TWO RAGING PIT BULLS
.
Sutton said he feared for his life. "You could hear me screaming from a mile away," Sutton said.
The people around the neighborhood looked on as the dogs were attacking Sutton's throat and face, but were hesitant to get involved. That's when Dawson emerged from his house, purportedly still putting on his tie, and pulled one of the alpha dogs off him. The other dog then retreated.
Sutton recalled the incident during Wednesday morning's meeting of the Rotary Club, where he presented Dawson with the 2018-2019 Community Humanitarian Award. He had planned to present Dawson with the award on the morning of the dog attack, but wound up with
16 STITCHES IN HIS FACE, 22 PUNCTURE WOUNDS IN HIS HAND AND 40 STITCHES IN HIS ANKLE.
After having spent more than two months recovering from the dog attack, he finally got the chance to honor his rescuer, whom he proudly called "a young hero."
The two met three years ago when Dawson was a participant in the Coastal Outreach Soccer organization, which is supported by the Rotary Club. Along with his heroic feat, Sutton lauded Dawson for his outstanding work ethic doing lawn work to earn money for school expenses.
Dawson begins his junior year at Brunswick High School today. As a sophomore, he tried out for the wrestling team and landed a spot on the varsity squad. He won more than 40 matches during his first season, and even qualified for the state championship, where he won his first match but dropped out because of a shoulder injury sustained in the second-round match.
With that level of skill, it's no surprise that Dawson was able to wrestle the charging pit bull off of Sutton.
When Sutton told the story to a friend of his who had been a general in the Marine Corps, he responded, "That young man is not varsity, he's above varsity."Dawson still maintains lawns and does handyman work during the summer to pay for his wrestling tournament travel. A man of few words, he humbly accepted the Rotary Club's award.
"You all could have given this to anybody, but you gave it to me," Dawson said. "So I'm thankful."