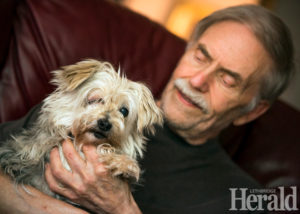 A 72-year-old man is still feeling emotionally fragile and anxious following an attack on himself and his small companion animal by
TWO LARGE DOGS
this past weekend.
Gary Batt was out walking his 12-year-old Maltese-Yorkshire terrier cross companion-dog Nala near 13 Street and 5 Ave. South late Saturday afternoon when two large dogs on leads ran up behind him. One hit him in the side, nearly knocking him over as it and the other large dog, identified as a German shepherd, moved in to attack Nala.
Batt, who suffers from aphasia following a hemorrhagic stroke last November, has difficulty
articulating clearly what happened, but he says he was very scared.
"I was very (scared)," he admits.
"It was so fast. The two were trying to get (Nala) from two sides. The first one went (at) me, and I thought somebody hit me. Come up from the back. Hit me from the side."
According to Batt, he heard "a terrible whine" as one of the dogs sank its teeth into Nala. He jumped in to desperately try to save his dog as the two attacking dogs continued to try to kill her.
The dogs' owner, an unknown male, came running up to grab hold of the dogs' leads, and Batt was finally able to pull his small pet to his chest to protect her from further attack.
Instead of expressing sympathy or concern, the man acted aggressively toward Batt, who was still terrified and in shock from the attack.
Batt then took up Nala and ran, carrying her all the way back to his home a few blocks away. It was only when he got home the full horror of Nala's injury became known.
Warning: the following contains disturbing details.
Batt's friend and roommate, learning of the attack, took Nala from Batt and checked her for injuries only to find that
HER RIGHT EYEBALL WAS HANGING OUT OF ITS SOCKET
.
They immediately took her into a local animal hospital and received an assessment that Nala's eye would have to be removed, but Batt and his roommates could not afford the $2,500 procedure.
The animal hospital advised alternatively Nala could be put down.
But that really wasn't an option, says one of Batt's roommates, who did not wish his name to be used in the article.
Instead they phoned a veterinarian they knew in Cardston, and drove Nala out there for surgery.
Taking into account Batt's difficult circumstances, the vet charged them a much more affordable rate.
"Nala is Gary's life," says the roommate.
"They are very close and he has an extreme bond with her. He was so worried she was going to die overnight when we left her at the Cardston vet, he sat in that chair all night.
"He was crying and he didn't know what was going to happen. This situation has really (emotionally) crippled him."
Nala came through the operation alright, but both she and Batt have been suffering from extreme anxiety since she returned home.
In the past year, Batt, a diabetic and a cancer survivor, has suffered two heart attacks, had open heart surgery and suffered a debilitating stroke. He has lost the ability to speak clearly as a result
. He is on anti-depressants. Nala is his main emotional comfort and support.
Batt hopes by telling his story the owner of the dogs who attacked him might come forward to take responsibility for their actions. He also hopes his story can serve as a strong reminder to owners of bigger dogs if you can't control them then you shouldn't have them.
Nala's attack is the second attack by larger dogs on small dogs this year in Batt's neighbourhood, confirms the roommate.
The Herald attempted to contact the City of Lethbridge's Animal Control unit to ask about what steps victims of potentially similar attacks should take, but did not hear back from the unit prior to press time on Thursday.