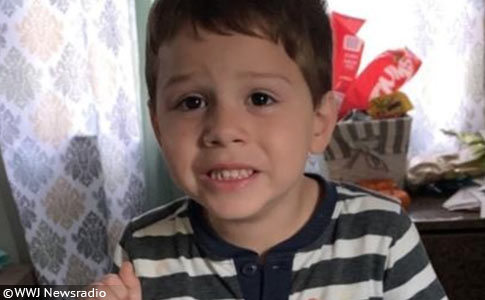 BENJAMIN COBB
A 4 year-old Hazel Park boy died Tuesday evening
after a vicious attack by a 60-pound, male pit bull that the family was temporarily looking after, police said.
The child's mother had tried to fight the dog off with a knife
"A preliminary finding appears that this case was a tragic incident," police said in a statement emailed Wednesday to the Free Press. "The Hazel Park Police Department extends its sympathy to the family and friends of the deceased."
It's unclear, Hazel Park Police said, what led to Tuesday's attack, but at about 6:45 p.m., a 14-year-old girl called 911 to frantically alert police that the dog pounced on her brother, and their mom was attempting to stop the animal.
The family, police clarified Wednesday afternoon after initially saying that the dog was in an animal foster care program, had agreed to take care of the dog for a friend.
THE FAMILY HAD THE DOG LESS THAN A DAY WHEN IT ATTACKED THE BOY.
A statement — with a $10,000
gofundme.com
fundraising effort posted Wednesday to defray funeral and memorial expenses for Benjamin, the "sweet boy" the pit bull attacked — said caring for the dog was "a kind gesture to help a friend in a time of need" and the pet had "never shown aggressive behaviors."
By Wednesday afternoon, more than 140 donors contributed $7,342, giving between $5 and $25.
The fatal pit bull attack which is making national headlines comes just two months after the deadly, and high-profile mauling of
9-year-old Emma Hernandez
and amid a long-standing national debate about how to protect people from dangerous breeds, that, in some cases even have been trained to fight other dogs.
Emma faced three pit bulls who attacked her while she was riding her bike near her Detroit home. It was a tragedy that
Mayor Mike Duggan said
was "felt deeply by everyone in our community" and needed to be reviewed to prevent it from happening again.
In September, a
3-year-old Detroit girl
was treated at a hospital after a pit bull injured her.
In Hazel Park, police arrived at the East Woodruff home, they zapped the dog with electrical stun guns and it ran off. The boy, who had been mauled with injuries to his neck and body, was taken to a hospital, where doctors determined he had died.
The 38-year-old mother was hospitalized and treated for dog bites and other injuries that did not appear to be life-threatening.
Police said in attempting to defend her son, the mother had stabbed the dog, which was later caught, taken to a veterinarian and euthanized.
Dog injuries have long been a problem in Detroit, which has struggled to address dog bites and strays. More than
4,100 dogs were picked up
across the city last year by Detroit Animal Care and Control, and each year hundreds of dog bites are reported.
In 2017, a pit bull attacked a then 11-year-old girl in Detroit, as a result her left arm had to be amputated.
And four years ago,
4-year-old Xavier Strickland
was mauled to death by three dogs on the west side.
Officials tried in 2006 to put a pit bull ban in place that would impose costly restrictions on owners, such as liability insurance, and require visitors with dangerous dogs to get a permit. The proposal came in the aftermath of three high-profile killings in the metro area by dogs.
It failed
.
Pit bulls, according to
DogsBite.org
, a Texas nonprofit that supports restrictive pit bull ordinances, are often used in dog fighting. Pit bulls, the organization said, also top lists of biting incidents in
19 states
, including Michigan, and inflict some of the most damaging injuries.
Pit bull terriers, among other dogs considered dangerous,
are banned in the United Kingdom
.
But, groups that favor pit bulls say that the dogs have been unfairly portrayed as dangerous or aggressive and are victims of abuse, especially by owners who exploit for dog fights.
Moreover, these groups argue that pit bulls, muscular short-haired dogs, are not involved in biting incidents
any more than other types of dogs
. Restrictive laws and bans, they add, do not work because they don't address the real problem: irresponsible dog ownership.
As safety precautions, DogsBite.org urges people avoid startling a sleeping dog, disturb a dog while it is sleeping, petting a dog without letting it see you, putting your face near a dog, and turning your back on a dog and running away.
And, the organization cautions, if a dog looks like it will attack, stay calm, don't panic, avoid eye contact, slowly back away, put anything you can between you and the dog, and if knocked down, curl into a ball with your head tucked in and hands over your ears and neck.
https://www.freep.com/story/news/local/michigan/oakland/2019/10/30/pit-bull-attack-hazel-park-boy-dead/4095092002/
https://blog.dogsbite.org/2019/10/4-year-old-boy-killed-pit-bull-his-family-was-fostering-in-hazel-park-michigan.html
(WXYZ) — A 4-year-old boy died Tuesday evening after being mauled by a PIT BULL that was being fostered by his family in Hazel Park.
Police went to the home at 6:44 p.m. after the boy's 14-year-old sister reported that her mother was trying to stop the dog from attacking the child.
When officers arrived, they found the dog actively attacking the 4-year-old inside the home. Officers then deployed tasers, which caused the 60 pound pit bull to free its grip on the boy. The dog then fled from the home.
Police say the boy had injuries to his body and neck, and was later pronounced dead at a local hospital.
The 38-year-old mother of the child was also taken to a hospital for injuries sustained while trying to protect the boy. Her injuries were not life threatening, police say.
_____________________________________________
Police said a 4-year-old boy was mauled to death by a dog at a home in
Hazel Park.
A 14-year-old girl contacted 911 Tuesday at 6:44 p.m. to report that her mother was trying to stop a dog in the home from attacking her brother, police said.
Police and the Hazel Park Fire Department responded to the scene and saw the dog
actively attacking the child in the home. Officers Tased the dog, which ran out of the house. The boy was seriously injured on his body and neck, police said.
The boy was transported to a local hospital, where he was pronounced dead. His mother was transported to a hospital and treated for non-life-threatening injuries.
The dog was found with a knife wound made by the boy's mother as she tried to defend her son. Police said the dog was a 60-pound PIT BULL the family was fostering.

2019 DOG BITE RELATED FATALITIES - 37 (12 children + 3 teenagers + 22 adults)
PIT BULL - 14 (KY 3, FL 2, CA 3, TX 2, MI 2, OK 1, VA 1)
UP TO 6 PIT BULL MIXES - 1 (TX)
5 DOGS: ? PIT BULL, MASTIFF, MASTIFF MIX, ROTTWEILER? - (TN)
3 DOGS: 1 MIXED BREED AND 2 PIT BULLS - 1 (CA)
PIT BULL/BOXER MIX? - 1 (NC)
PIT BULL/MASTIFF MIX - 1 (CA)
2 RESCUED PIT BULL MIXES - 1 (FL)
PACK OF DOGS - PIT MIX AND MIXED BREEDS - 1 (TN)
BOXER ? - 1 (IA)
BOXER MIX - 1 (SC)
PIT BULL AND A SHEPHERD MIX - 1 (TX)
ROTTWEILER - 3 (CA,NV, KY)
6 GERMAN SHEPHERDS - 1 (TN)
GERMAN SHEPHERD/BLUE TICK HOUND MIXES? - 1 (MS)
GERMAN SHEPHERD MIX - 1 (AZ)
2 DOBERMAN PINSCHERS - 1 (TX)
3 DOGS: MIXED BREED INCLUDING A HEELER/MASTIFF MIX -1 (TX)
4 DOGS: 3 DUTCH SHEPHERDS AND 1 BELGIAN MALINOIS - 1 (MA)
HUSKY MIX - 1 (GA)
AUSTRALIAN CATTLE DOG - 1 (CA)
FAMILY'S 2 COON HOUNDS - 1 (NY)

CA - 7
TX - 6
KY - 4
FL - 3
TN - 3
MI - 2
AZ - 1
GA - 1
IA - 1
MA - 1
MS - 1
NC - 1
NV - 1
NY - 1
OK - 1
PA - 1
SC - 1
VA - 1
Pit Breeder's 2 pits killed teen that climbed over their fence because nutter befriended him? - 29
Neighbor's Loose Dogs - 1, 3, 7, 9, 10, 26, 28, 30, 31, 33
Family Pit Killed Owner - 27, 34
Family Pit Killed child - 17
Family Foster Pit Killed Child - 37
Family Husky Mix Killed Infant - 26
Family Pit/Mastiff Mix Killed child -22
Family Coon Hounds Killed wife - 32
The Pit at Grandma's House - 5,
Family Rottweilers Killed their 3-year-old boy - 35
The 2 Rottweilers at Grandpa's House - 14
Rottweiler owned by a friend Killed child at Grandpa's House - 16
The Rescued Pits at Aunt's House - 12
Land Squatters on victim's property with 4 Pits Running Loose - 2,
Australian Cattle Dog Killed Owner - 23
2 Doberman Show Dogs Killed Owner - 6,
2 Boxer Mixes Killed Owner - 8
2 Pits Killed Owner at Animal Shelter - 15
Pit Killed Volunteer at Animal Shelter - 18
Relative's Dogs - 13
Babysitter's Dog - 11
Negligent Mother's German Shepherd Mix - 4
Teenager Killed by 4 Dogs while doing work at a friend's kennel - 19
A Father Died while defending his daughter from a Boxer attack - 20
3 Pits/Pit Mixes killed homeless woman while walking early morning - 21
Possibly homeless man walking on road at night killed by neighbors 2+ Pit Bulls - 24
Man taking a shortcut on a trail through a wooded area killed by 6+ Pit Bull Mixes - 25
Man spending the night with friends ...killed by their 2 pit bulls - 36
1) 1-9 - Dianne Reves - 70 - Grenada County MS - A total of 7 dogs were taken into custody - The Sheriff's Department reported she suffered about several hundred dog bites - Facebook posts from a neighbor shows the dogs were GERMAN SHEPHERD/BLUE TICK HOUND MIX.

2) 1-16 - Lana Bergman - 70 - Joshua Tree CA - She was fatally mauled by 4 PIT BULLS that were living on her property.
3) 1-21 - Edward Stanley - 85 - Amarillo, Potter County TX - He was severely mauled over his entire body by a PIT BULL AND A SHEPHERD MIX in his driveway - A passerby came to his aid but he died 2 weeks later - http://www.dogsbitedecatural.com/2019/01/amarillo-tx-85-year-old-man-suffered.html

4) 1-24 - Patricia Henson - 8-Months-Old - Tucson AZ - She was found dead with a dog near her - Severely and Catastrophically Mauled - An autopsy report of 3 bags of stomach contents from the dog showed baby teeth and skeletal fragments - A neighbor reported seeing a German Shepherd mix taken from the home - Her mother, Breanna Henson was arrested and charged with child abuse and neglect.
5) 2-7 - Ashton McGhee - 1 - Guthrie KY - The 1-year-old baby boy lived in Hopkinsville KY and was visiting his grandparents' home when one of the family dogs came in from outside and attacked him - The Chief of Police said the PIT BULL MIX may have been spooked by a thunderstorm and then spooked again by the ball the child was playing with - "IT'S AN UNFORTUNATE FREAK ACCIDENT".
6) 2-8 - Elaine Richman - Houston TX - She owned two DOBERMAN PINSCHERS that she trained as show dogs - She was found dead in her backyard with bite marks over her face and body.
7) 2-15 - Angela Johnson - 54 - Anza Riverside County CA - On Dec 15, 2018, she was hanging out clothes on a line in her yard when a neighbor's 3 pit bulls mauled her - A main artery was bitten into on her neck and she suffered a severe stroke - She remained in a coma and died on Feb 9, 2019.

8) 2-21 - Nancy Burgess-Dismuke - 52 - Greenville SC - She was playing in her yard with 2 of her dogs said to be BOXER MIXES - Neighbors heard her screaming and at first thought they were just playing, then realized they were mauling her - several men came running and hit the dogs with various things but the tiny woman had lost so much blood from her upper extremities ... "one arm was hanging and the other was bitten off!!!"

9) 2-26 - Bessie Jill Peterson - 88 - Pall Mall Pickett County TN - She was airlifted to Vanderbilt Medical Center after being mauled around 5pm by a neighbor's dogs - 6 GERMAN SHEPHERDS - Her sister, who was in the home with her, says that she went outside to check on a drainage ditch and the flooding in her yard when the dogs attacked - She tried to help her sister but the dogs chased her back in.

10) 2-27 - Johnnie Mae Garner - 88 - Lubbock TX - Family members believe that the neighbor's dogs were trying to get to her dog in her backyard and she was trying to scare them away when they mauled her.

11) 3 -5 - Jacari Long - 6 Months -Salisbury NC - The child's babysitter had gone outside to the car to clean off a seat for the baby boy when she heard her mother scream and ran inside to fine her ?PIT BULL/BOXER MIX? mauling him - He was taken to a local hospital then airlifted to Winston Salem where he was pronounced dead.

12) 3-8 - 2-Year-Old Boy - High Springs Alachua Co FL - While in the care of his grandmother who was letting out large dogs at his aunt's house - 2 of the dogs mauled the boy - He was pronounced dead at the scene and the grandmother was injured trying to save him - 6 dogs were taken from the home - They were adopted dogs from Rescues and appear to be Boxer/Pit mix, and various mixed breeds and a large Dogo Argentino - The 2 dogs that killed the baby were an American Staffordshire Terrier (Pit Bull) and an American Bulldog.

13) 3-13 - Jimmy Lee Grigg - 53 - Galveston County TX - The Sheriff said he was fatally mauled by 3 dogs owned by a relative on the Grigg's property and he said the dogs were MIXED BREED INCLUDING ONE HEELER/MASTIFF MIX - Cause of death was from blood loss - His brother was the one that called 911 for help - A neighbor reported that she had called animal control several times because it sounded like dogs fighting on the property.

14) 3-22 - Jaysiah Chavez - 2 - Fresno CA - Apparently the child was in the care of his grandparents when he went into the front yard - Other children ran in to tell the grandmother that dogs had the child - She tried to get the 2 Rottweilers away and save him, as did the grandpa, but he died from the injuries.

15) 3-23 - Johana Villafane - 33 - Irving TX - She was visiting her 2 Pit Bulls that were quarantined at O'Connor Animal Hospital for biting someone earlier in the month - Someone noticed her lying unconscious outside in an exercize area - Responders could not get to her because of the viciousness of the meat grinders so police shot them - She was taken to a hospital with life-threatening injuries and later pronounced dead.

16) 4-27 - Kyna Marie Pamela Deshane - 15-Months - Henderson NV - The child was fatally mauled by a 4-year-old Rottweiler owned by a family friend while she was at her grandfather's house - She was rushed to Henderson Hospital with Life-Threatening injuries and was pronounced dead there.

17) 5-2 - Isaiah Geiling - 2 to 3-year-old boy - Louisville KY - A woman ran from the small house in the Chickasaw Neighborhood to a next door neighbor saying a Pit Bull was attacking a child - Two men ran and began attempting to get the very vicious large dog off the child who was laying face down in pools of blood and barely breathing - He was rushed to a hospital but died from the massive injuries - It is now being reported that the Monster had attacked him before.

18) 5-9 - Christine Liquori - The volunteer was found dead inside a fenced play area at the Humane Society of St. Lucie County - Fort Pierce FL - A medical examiner ruled that she died from severe blood loss due to dog bites.

19) 5-9 - Ryan Hazel - 14 - Dighton Bristol County MA - The teen's grandmother had driven him to his job at Scott Dunmore's house where he took care of about 11 dogs when Dunmore was in Boston - This usually took him about 45 minutes - When he did not return to his Grandmother's car, she called neighbors who came and found him severely mauled in the backyard - 4 dogs were loose and 7 were caged up ...3 Dutch Shepherds and 1 Belgian Malinois.

20) 5-31 - Robert Joseph Quick - 33 - Fort Madison Lee County IA - The father died after defending his 5-year-old daughter from a large dog said to be a BOXER attacking her in the face - Officers arrived to find the large dog attacking a man lying on his back in the front yard - The dog refused to release so they shot it - Then they found Quick in the doorway of the home suffering from the dog attack and he ask they to please take care of his daughter who had been attacked in the face - He later died at Fort Madison Hospital ER - Autopsy pending to determine exact cause of death.

21) 6-16 - Crystal Lynn Pearigen - 36 - Bakersfield Kern County CA - She was found dead with multiple dog attack injuries at 6am on June 16 near Costco parking lot - 3 dogs were identified and taken in - One Mixed Breed and Two Pit Bulls - The woman may have been homeless and authorities are searching for her family.

22) 6-27 - Nicholas Farris - 2 - Newman Stanislaus County CA - The child was fatally mauled in the rear yard of a residence by a family dog said to be a PIT BULL/MASTIFF MIX.

23) 6-28 - Maria Cristina Crawford - 54 - Ventura CA - A person returned home to find their family member dead - There was evidence that she might have been bitten by one or both of her dogs - A large Australian Cattle dog and a pit bull - Authorities now say that after waiting for results from the medical examiners office it was determined that the Australian Cattle dog attacked her and was responsible for her death ...the same dog had turned on her and bitten her twice before.

24) 6-29 - Brian Butler - 46 - Gilbertsville KY - A passerby found his body on the side the road and called police - An autopsy revealed that he died from sharp force trauma from a dog attack - Animal Control took 2 Pit Bulls found in the area and warned of the possibility that more dogs were involved.

25) 7-4 - Melvin Olds Jr - 45 - Lake Placid Highlands County FL - His family said that he took a shortcut through a wooded path and never came home - His body was found later with more than 100 dog bites - A pack of dogs had been seen hanging out in the neighborhood - Traps were laid and 6 strays were captured .... all PIT BULL MIXES.

26) 7-9 - Ruth Flores - 22-Days-Old - Hall County GA - The Infant was mauled by the family's Husky Mix in a bedroom where she was sleeping.

27) 7-11 - Homer Utterback - 52 - Uniontown Fayette County PA - His girlfriend said she heard a noise in another room and went to see what it was and found him on the floor with the Pit Bull on top of him biting into his neck - By the time first responders arrived he was dead - Utterback considered the Pit Bull his "best friend" and had it for over a decade - He suffered from seizures and an autopsy will be done to see if it can be determined if he died from a medical condition first and then the Pit attacked him.

28) 7-18 - Mario Williams - 40 - Memphis TN - A driver discovered the man being attacked on the street at about 2 am Thursday - The witness described a pack of dogs, 6 or 7 dogs, attacking the man who was severely mauled all over his body - He died shortly after arriving at Regional One Medical Center - It appears that a PIT MIX and a Mixed Breed are 2 of the dogs captured so far.

29) 8-11 - Nelson Cabrera - 16 - Irving TX - A neighbor heard the barking and screaming in the backyard around 5am Saturday morning and climbed on top her truck to see the 3 adult pit bulls mauling the teenager - She called 911 as the victim tried to knock on the door to get the owner to let him in - Police arrived and went over the fence and shot one pit as it charged them - Besides the 3 adult pits, there were 4 puppies there also - The pit owner/breeder and backyard auto mechanic said he knew the boy and he had told him that he was homeless and he said that he wanted to help him ... So I guess this was the reason the teen was in his backyard!

30) 8-20 - Emma Valentina Hernandez - 9 - Detroit MI - It was reported that she went out to play and ride her bike possibly with a brother in her backyard and a neighbor's 3 pit bulls SOMEHOW GOT OUT and mauled her - Family members and neighbors gave her CPR but she died right there on the ground with her neck eaten out!!!

31) 8-30 - Adrieanna O'Shea - 19 - Maryville TN - On Aug 23 the college student went to a home in Knox County to retrieve her purse she had left the day before - It was the middle of the day and the woman at the home heard screaming and looked out to see the neighbor's 5 dogs attacking the teenager - She was the dog's names and telling them to stop so she knew the dogs - The attack went on for 20 minutes - She was shredded all over especially her arms and was placed in a coma because of the blood loss and her organs shutting down - family prayed and surgery was done but she did not survive such catastrophic injuries.

32) 9-7 - Arlene Renna - 67 - Pleasant Valley Duchess County NY - The news articles say she and her husband owned 2 Coonhounds - A Redbone and a Black and Tan - Her husband found her on the floor in her home unconscious Saturday with injuries consistent with a dog attack and she did not recover - A facebook post has come out showing Renna with a large pit bull and says she was volunteer of the month of February for the SPCA - The writer of the post says that the pit bull is actually hers and that she regularly took it to local elementary schools and day cares to show how misunderstood pit bulls are .... I am looking for more on this, but it appears at this time that the coon hounds probably killed her.

33) 9-20 - Baby "Doug" Doe - 13-month-old boy - Granite Bay Placer County CA - The family's 6-year-old female pit bull killed the child in what authorities say was an unprovoked attack in the family's living room - An adult was with the toddler at the time and finally got the pit off the child but damages were so severe he was pronounced dead at the hospital.

34) 9-30 Alan Bruce - 56 - Bennington OK - He was attacked on Saturday 9-28 by a man's dogs said to be 2 pit bulls and a pit bull mix - the dog's owner spoke to the media and said he was a friend of Alan Bruce - Neighbors said that the dogs had recently attacked 2 other people.

35) 9-30 - Morgan Crayton - 31 - Hampton VA - She was mauled by her pit bull in her backyard - Her facebook posts shows 1 pit bull but it was reported that there was multiple "dogs" at the home at the time of the attack.

36) 10-1 - Steven Thornton III - 3 - Louisville KY - It has been reported that the small child got out of a window sometimes during the night and was found around 9am on Tuesday fatally mauled by the family's 2 Rottweilers that were kept in the yard.

37) 10-8 - Dustin Bryan - 21 - Modesto CA - He was spending the night at a home that had 2 pit bulls - NUFF SAID!!!

38) 10-29 - Benjamin Cobb - 4 - Hazel Park MI - First News Reports say the 60 pound Pit Bull was a foster pit that the family had not had for very long - Police arrived and tazed the dog that was actively attacking the child's body and neck - The dog ran out and the child was rushed to a hospital where he was pronounced dead - It has now been revealed that the mother was pit sitting for a friend and the monster had been in the home for less than a day.




PENDING:

2-15 - Brenda Hamilton - 77 - Pantego Beaufort County NC - She was attacked around 6am on Friday morning on Indian Run Road - Canine DNA was found on her - Investigators are collecting DNA from "canines" in the area to find which animal horribly and fatally mauled her .....
https://wcti12.com/news/local/investigation-into-what-killed-brenda-hamilton
4 - ? Freddie Mack - 57 - Venus Johnson County TX - Relatives had not heard from the reclusive man since April 19 so a search began on his property where he lived with 18 + or - dogs - The dogs were so aggressive that no one could get near to check his home - In mid May detectives found bone fragments, possibley human hair and pieces of clothing in and around feces - Tests were done and it proved to be remains of Mack - Authorities say that it is impossible to tell if Mack died from a medical condition and then was eaten by his dogs or if his dogs killed him and ate him!