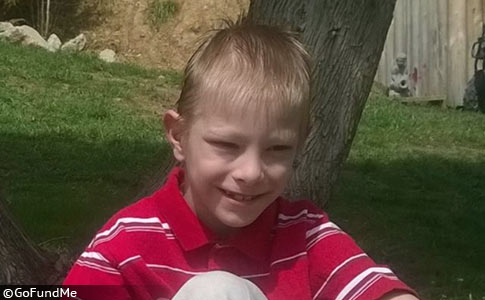 Tuesday, Feb 18, 9:00 p.m.
Troopers with Kentucky State Police confirm a juvenile died in a suspected animal attack in Knott County.
They were called to the scene on KY-1102, also known as Montgomery Creek Road around 6:30 Tuesday evening.
The minor's body was found several hundred feet up a hillside in a wooded area. Rain and dark conditions made it difficult for first responders to find them.
"One person I thought said several hundred feet 300-400 feet up the hill. You know it was very steep, you know so it was a pretty good distance," said Jody Sims with Kentucky State Police Post 13 in Perry County.
Officials say that while it is being ruled an animal attack they still do not know what killed the boy.
"However at this point, there is no way they can determine what the animal was, there are still questions as to what animal it may have been," said Sims.
Officials are not releasing the boy's name while they wait to rule out a criminal act. Right now, however, this is not suspected to be anything other than a terrible accident.
Right now, troopers are not able to confirm what type of animal may have attacked the child.
"It's a really difficult thing to go through. You know, part of being a professional in law enforcement or as a first responder you gotta take care of business first, and you kinda got to deal with that yourself too, to some degree. But obviously the biggest focus has to be on this family at this time," added Trooper Sims.
Update: Wednesday, Feb 19, 12:45 p.m.

Kentucky State Police released more information about what they believe was an animal attack in Knott County.
Troopers said the victim in the deadly attack was a 13-year-old boy. They have not released his name yet but said he was staying at a home in the Emmalena community.
Knott County Schools Superintendent Kim King said the boy was homeschooled.
Police said the original call described a "canine-type" animal. The state medical examiner's office said the cause of death was consistent with an animal attack, but have not determined the exact type of animal.
Troopers say people in the area should remain "hypervigilant", especially at night, but there is no immediate threat to the community.
"Something happened in this community in Emmalena in Knott County. We just urge people to be very cognizant of their surroundings. Be careful about the things you have around your home," said Trooper Jody Sims. "Be careful of any type of potential food source for a wild animal. Secure those in garbage cans, containers, whatever you have to do or not even put them out."
https://www.wymt.com/content/news/Teenager-killed-in-Knott-County-animal-attack-567988171.html
https://mountain-topmedia.com/police-juvenile-dead-in-possible-animal-attack-in-knott-county/
https://www.facebook.com/1071thekillerb/posts/2881700211893972
https://www.gofundme.com/f/funeral-expenses-for-corey
2020 DOG BITE RELATED FATALITIES - 7 (4 adults + 3 children )
PIT BULL - 6
PACK OF DOGS - 1

CA - 1 (6)
IL - 1 (7)
IN - 1 (4)
KY - 1 (1)
MS - 1 (5)
NM - 1 (2)
OH - 1 (3)
Family Pit Killed Man, 26, in home
Family Pit Killed 5-yr-old in home
Family's Pit Killed Infant in Bedroom
Friend's Pit Killed Man in his own Yard
Relative's Pit Killed Elderly Man Sitting in Wheelchair in yard
Parent's Pit Killed 4 month old with Mother Sleeping in same room
Pack of Dogs on Indian Reservation Killed Woman Walking on the Street
1) 1-8 - Kay Torres - 52 - Taos Pueblo NM - Mauled to death by a Pack of Dogs mid morning on Wednesday, January 8 - The longtime teacher's backpack was found in the street and the dogs were standing over her - She had many dog bites to her body.

2) 1-9 - McKenzie Terwell - 4 months old - Dayton OH - The father returned home to find the infant on the floor not breathing - He told the dispatcher that a family member was supposed to be watching the child - The child bled to death - A neighbor said that they had seen 3 to 4 pit bulls in the yard this summer - Reports say she was attacked by 1 pit and it was ruled "AN ACCIDENT - However, now they are reporting that the mother was asleep on the couch and had taken prescription drugs and did not hear the dog kill the baby.

3) 1-10 - Donald W. Abner - 55 - Conway, Rockcastle County KY - Police were called around 3:40am on Friday morning by neighbors who said there was a commotion in a yard nearby - One article reported that a girl friend of the victim who was staying with him at the home and owned the Pit Bull was standing near the body jumping on him and ordering the pit bull to attack him - Police were met by the very aggressive pit and they shot it to gain access to the victim - The woman was traumatized by the attack and was taken to a hospital for observation - The victim had bites on his head and face but autopsies will be conducted on both the victim and the dog - The woman was arrested for using a pit bull as a weapon against the man.

4) 1-25 - Julian Connell - 26 days old - Lafayette IN - It was reported that the infant was in a bedroom and the pit bull began fighting the beagle - apparently in the same room - a teenage brother managed to take the beagle out but later returned and the pit bull was standing over the baby that had injuries to head and neck - The teenage brother called 911 - It appears the mother was in the home at the time.

5) 1-30 - Harvey J. Harmon - 76 - Attala County MS - The elderly man was in his wheelchair in the yard when 4 dogs said to be pit bulls attacked him dragging him from the chair and killing him - Two of the pits belonged to his nephew who lived with him and two appeared to be strays that hung out around them - Three of them were put down immediately and one was said to have escaped.

6) - 2-10 - 6) - 2-10 - STERLING VER MEER 5 - Oro Grande CA - He was killed by the family pit bull named 'Thor' that was 12-years-old and it was reported that the male pit had been with the family since it was a puppy - It was first reported that the monster killed the child in a room in the house but later reports showed an outside shed-type building a few feet from the house where the dog was kept.

7) 2-11 - DEVIN WHITE - 25 - Plainfield IL - 4 people were injured in this attack by a family pit bull on Saturday, Feb 8 - Devin White was taken to a hospital with severe arm injuries and then transferred to another hospital where he died on 10th of February.


PENDING: 2-18 - COREY GODSEY - 13 - KNOTT COUNTY KY - the child was attacked and killed on a steep hillside in rural eastern Kentuckyand was finally found on a cold, dark and rainy night, it was first said that it was a dog attack or canine attack - The Medical Examiners have now said the cause of death was consistent with an animal attack but the type of animal has not been confirmed.

DEATH INDIRECTLY CAUSED BY DOG ATTACK:
1) 2-6 - Unidentified Pit Bull Owner - A man trying to escape his 2 pit bulls attacking him in his home was killed when a neighbor hearing the commotion grabbed his crossbow and ran to shoot at the dogs but inadvertently shot the pit bull owner instead killing him.